A good washer is an essential part of any household. But not all washers are created equal: some are top-loaded, and some are front-loaded. Many people swear by top-loaded washers as they tend to be much cheaper while offering the same level of performance.
If you're hunting for a nice top-loading washer for your home, here are the best top-load washer brands to keep on your radar.
10 Best Top Load Washer Brands For Your Home
1. LG – Most Reliable Top Load Washer Brand
LG is considered by many as the chief rival of Samsung, and for a good reason. Similar to Samsung, LG produces a wide range of products, from smartphones to gadgets, and appliances. Top loading washing machines are part of their portfolio, too.
The company's history began in 1947 when it was first established as Lak Hui Chemical Industrial Corp by Koo In-Hwoi. As Lak Hui (pronounced like "Lucky" in English), began to expand into the plastic business, it established a subsidiary called GoldStar Co. Ltd.
Later, the two companies merged to become Lucky-Goldstar in 1983.
From Lucky-Goldstar, the company eventually shrunk its name down to just "LG". The name is also commonly associated with its tagline "Life's Good".
The company's products – including its top-load washing machines – are considered high-end. So, expect premium pricing if you're going to browse their catalog.
But there's a good reason for the high pricing. LG doesn't shy from innovating or adding radical new features to its products. If you want to stay on the bleeding edge with WiFi-connected or smart assistant-compatible washers, try LG.
2. GE Appliances
GE, similar to Speed Queen, has been a prominent player in the household appliance market for decades.
Originally, the company was part of General Electrics (hence the name). Later, it was acquired by Electrolux in 2014. From Electrolux, in 2016, GE Appliances was bought by Haier and KKR. Other than owning the company, Haier also managed to enter a deal with General Electrics to keep on using the GE brand name until 2056.
GE washers are known for their high energy efficiency and accessible costs. They also come loaded with many innovative features, allowing them to fit right into the 21st century household.
3. Samsung
Outside of South Korea, the company is better known for its smartphones or smart TVs. But the company also has a division dedicated entirely to building appliances, too, which includes top-loaded washers as well as washers with agitators.
The business that's later known as Samsung was started in 1938, founded by Lee Byung-Chul. It didn't start building high-tech products right away. Rather, it began as a small trading company dealing in dried fish, groceries, and noodles.
That's no longer where the business is at, fortunately. Samsung Home Appliances division sells millions of units every year, among them are top-loaded washers. Their products are considered high-end, so prices can be steep. Nonetheless, these washers will more than makeup for it with high performance, top-of-the-line features, and long service life.
4. Speed Queen – Most durable top load washer brand
Speed Queen is a notable brand on the market, known for its durability and ease of maintenance. A Speed Queen top load washer can easily last for several decades or more if you supply it regularly with parts and good maintenance.
Speed Queen was founded in 1908 by Joe Barlow and John Seelig. Back at the time, the company was simply known as Barlow & Seelig Manufacturing. The company's business model at the time was to simply take existing designs, improve upon them, then sell the improved products.
It wasn't until 1928 that the company officially changed its name to Speed Queen. After a few mergers and acquisitions, the company now ends up under the umbrella of Alliance Laundry Systems.
Speed Queen washers, as we mentioned earlier, are durable. But they're not known to have very good performance or efficiency. They don't clean clothes as well as other products or competitors on the market. So, if that's what you're looking for, try other brands.
5. Maytag
Maytag was founded in 1893 by Frederick Maytag as a washing machine company. Designing and manufacturing washing machines is quite literally within the company's DNA.
The company, throughout its history, has proven itself to be a reliable, high-quality brand. Its washing machines – particularly, its top loading washing machines – have been consistently praised by consumers. Maytag's products mostly belong in the midrange to high-end price spectrum.
Currently, Maytag is part of the Whirlpool brand.
6. Haier
Haier is a Chinese multinational home appliances brand. With a history stretching all the way back to the 1920s, Haier has been on the market for a very long time.
The company made its name with refrigerators. Eventually, the company expanded into other segments, including washing machines. It's quite famous for its compact washers and dryers.
These days, the company maintains multiple production plans in many countries around the world, including several in the US. However, the company doesn't sell its products at its own outlets. Rather, you will mostly find Haier-branded products in major retailers or independent appliance sellers.
Haier currently owns GE Appliances, having a 90% stake in the company.
7. Bosch – Best German Top Load Washer brand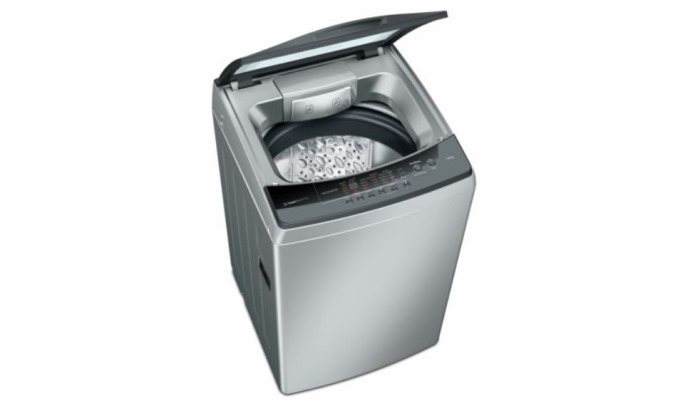 Bosch is famous for their power tools. Hence, you would probably be surprised to learn that they also make appliances, as well.
Bosch's compact, top-loaded washers are some of the best on the market. They usually contain the latest technology and innovation. As such, although the pricing can be high, for people who want to have the best that the industry has to offer, a Bosch washer makes for an attractive option.
Bosch was founded in 1886 by Robert Bosch in Stuttgart, Germany under the name "Workshop for Precision Mechanics and Electrical Engineering". Today, the company has grown into a massive business spanning multiple nations. It's headquartered in Gerlingen, Germany.
8. Whirlpool
The list wouldn't be really complete without Whirlpool. Headquartered in the state of Michigan, the US, it is one of the largest and most profitable home appliance brands in the world. It is the owner of many familiar appliance brands like Maytag and Amana. If you decide to get a Maytag washer, you're actually buying it from Whirlpool.
But the company also produces its own top-loading washers. Whirlpool's business model is to appeal to everybody, so you'll find models at a variety of prices. From affordable to high-end, you can find something for yourself in their catalog.
The company was founded in 1911 by Louis Upton under the name "Upton Machine Company". Originally, the company was a machine shop that makes electric wringer washers. The name "Whirlpool" wasn't even a thing until 1948.
9. Electrolux – Best compact top-loading washer brand
Electrolux is known for making full-size and compact top-loading washers for the midrange and high-end market. Although many of their appliances aren't very well rated by pundits, their washing machines tend to be viewed very positively. They have good performance, and reliability, and tend to come with a very wide range of features.
It's a good option if you want to splurge on a high-quality washer.
Electrolux is a Swedish brand established in 1919 by Axel Wenner-Gren. It's currently headquartered in Stockholm and is the second largest appliance maker in the world, just behind Whirlpool.
10. Roper – best budget top load washer brand
Under the Whirlpool brand umbrella, you'll find Roper. It specializes in making entry-level appliances for the masses. Despite being wallet-friendly, Roper's products maintain a decent level of quality and ruggedness to be included on this list. Definitely check it out if you're looking for an affordable washer.
The company was founded in 1883.
Final Words
These are the best top load washer brands that you should keep an eye out for. These companies offer great washers at many different price points, so you should be able to find a nice brand for yourself among these 10 names.
Which brand is your favorite? How was your experience with them? Tell us in the comment section!