So we're back with this guide about the best pool cue brands. They do not only sell high-performance cues but also help improve your game massively with their pool sticks. Check them out for the money and your benefit in the game.
Each brand is known for its unique characteristics which make them stand out from the competition. And we hope there will be a good one on our list that can meet your needs.
10 Best Pool Cue Brands To Complement Your Play Style
1. Predator Pool Cue – best quality pool cue brand
If you're seeking a pool cue with the ultimate beauty and performance, look no further than Predator. It has strived to create the best quality pool cues and billiard items for beginners and professional players.
Based in America, Predator specializes in high-end cues with advanced technology to boost performance. They have recreational cues with modern designs and those made for best-in-class playability.
Predator understands that playing and winning the games need your ability to adjust where the cue ball goes. More than that, you must know how to set yourself in a great position to make a series of shots.
2. Mcdermott – best craftsmanship pool cue brand
Like other best pool cue brands, McDermott has proved to be the optimal choice for more than 40 years. Its cues are best known for decent craftsmanship, so many professional players choose to use Mcdermott cues.
Since 1975, the company has increased the industry standard for what players want from a decent pool cue. All of its products apply the latest technology and use premium materials worldwide.
But what makes Mcdermott different from others is their passion. They love doing unique things that nobody has done before. The whole team gets inspired by launching new products and is motivated to develop better items for the game.
3. Joss – best customized pool cue brand
Dan, the president and CEO of Joss, established the firm in 1968 with his partner. Later on, he controlled the whole business and has been producing Joss Cues ever since.
At Joss, you can experience a wide range of vintage and professional cues. If you need customized or one-of-a-kind cues, Joss has them all!
Each cue of Joss gets marked with a serial number on the joint. This mark will help raise value and character. Besides, a Joss cue represents a family that truly cares about its products and clients.
Dan is often searching for better ways to boost the functionality and appearance of the cues. He also wants to maintain the values of conventional cue manufacturing.
4. Meucci – best pool cue brand for beginners
Meucci Cues is a good brand for beginners and seasoned professionals. The brand also excels in designing and creating decent quality, high-performance pool cues. Its cues arrive in different customized styles, so you can find the right one.
All cues get innovated and developed by Bob Meucci, standing for a massive value. For those who want to reduce cue ball failures, explore the Meucci line of pool cues with more successful hits.
Meucci is the best budget pool cue label that can give you all the features you need. Those are the ability to cause less cue ball deflection and maximum performance with less effort. At an affordable price, they still give you a tremendous advantage over other competitors.
5. Schon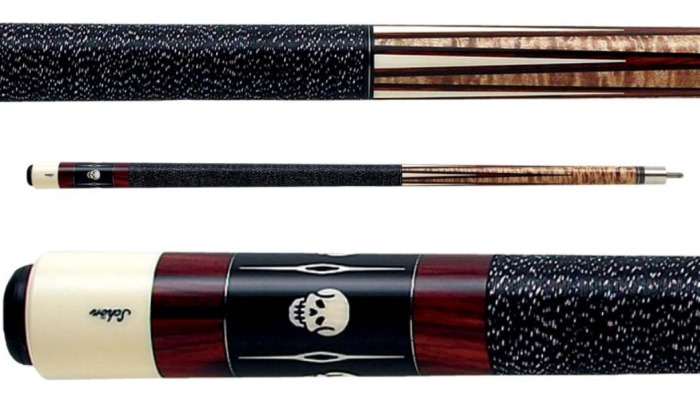 Schon is a good name in the business and has a good history for everyone to look into.
In 1981, Schon got founded by Terry Romine, Sr. His dream is to produce the perfect cues that excel in aesthetics and accuracy. As a result, Schon became renowned for crafting some of the world's most beautiful and playable cues.
The brand concentrates on hits and feels initially when producing handcrafted cues and shafts. And a lot of famous players have used its cues on their paths to success. Some of them are Johnny Archer, Shane Van Boening, and Karen Korr.
6. Pechauer – best American pool cue brand
Pechauer is the best American pool cue brand not to miss from the list. Its custom cues are known to be beautiful, smooth, and well-balanced. They also provide a soft shot and allow the players to focus on the ability to shoot.
The manufacturing process kicks up with choosing the maple logs for different parts of the cue. Exotic woods are what the brand prefers to use in several cases. Maple logs will get cut on the sawmill and dried in a kiln to maintain the whiteness of the wood.
Furthermore, other parts and components get crafted and produced by machines in-house. Doing so ensures quality control throughout the process.
7. Lucasi
Lucasi is one of the most glorious brand names in this pool cue manufacturing industry. By sourcing unique wood, they always assure the excellent quality of their products. The wood is well-seasoned for more than two years before it's ready to apply for production.
Aside from that, the brand is among the few ones incorporating laser technology in production. This thing gives Lucasi a hand in fitting what they claim to deliver.
Throughout the years, Lucasi has launched a range of curated pool cues, which use different materials. The most common ones are Irish Lien, leather, and Tiger Everest for tips. For that reason, you can have a pool cue with high durability, stability, and performance.
8. Mezz
Each cue from the brand features the Moori tips to increase your playability. Mezz cues are also best known for boosting stability and reducing chances of warping. Most of their products get manufactured by Miki Co., Ltd.
It's a family-owned firm founded in 1960, making it one of the oldest pool cue makers on the globe. With over 50 years of experience and achievement, people will see constant innovations from the brand.
In 1991, the name "Mezz" appeared once Miki worked with an American firm to create a wider range of cues. Nowadays, Miki has been creating superior quality pool cues, carom cues, and other accessories to level up playability.
9. Jacoby
Each cue gets designed and produced by the famous cue maker David Jacoby and his son in Wisconsin, America. The company began in a basement where these two people did repairs on damaged products.
Over the years, Jacoby has done an excellent job in producing some finest pool cues for professionals and amateurs. They can satisfy standards of quality, performance, and excellence.
Like other manufacturers, Jacoby desires to integrate innovations and state-of-the-art technologies. That assures that you can leave their facilities.
10. OB
Another world's best pool cue brand you can't miss today is OB Cues. The name "OB" derives from two founders Don Owen and Royce Bunnell. In 2005, the company started producing in Royce and Don's garages.
They exist to deliver quality cues with pride in America. And once playing with an OB shaft, you will feel confident to win the games.
No matter if the cue offers a quieter or a harder hit, the player should like and feel comfortable with it. And feel serves an essential role in the performance of a pool cue.
Conclusion
Players are serious about choosing the cues they use. That also means you're all on the lookout for the best pool cue companies worldwide. With the right cue in hand, you can feel confident to master more games. When making a purchase, remember that you need to ensure your chosen pool cue fits your style, skills, and expertise.