It's time to get an all-in-one upgrade for your kitchen! Investing in a utensil set is always a perfect way to help you tackle different tasks. Our list of the best kitchen utensil brands tells you what you're missing. We have rounded up the best sets of tools that might be more suitable for particular tasks than others.
Are you ready to find out where to get these sets? Let's make it easy to scrape your pans or flip eggs without damaging them!
Top 10 Best Kitchen Utensil Brands For Any Foodie
1. OXO
We have an American manufacturer of kitchen utensils here. The company got founded in 1990 with its headquarters in New York City.
With over 30 years of experience, they've created tools that surpass expectations and bring delight to every cook. Sam Farber, the founder of OXO, apparently saw opportunities to improve a process or a part of daily life.
He and his wife both built the iconic OXO handle with an ergonomic style and non-slip grip. You can pair it with a stainless steel blade. After the brand was born, it changed the way people tend to prepare and cook food.
Till now, OXO keeps making daily tools to make tasks easier and more enjoyable.
2. Williams Sonoma
From Hawaii to New York City, Williams Sonoma can bring nice and affordable daily essentials to every party. Here, you do not only find some of your favorite celebrations, but also the best quality kitchen appliances. They have over 50 years of culinary experience, so Williams Sonoma can design the exclusive collection of cooking utensil sets.
Besides, you'll get to enjoy their array of essential electronics with no detail overlooked. The brand also links to local communities through its cooking classes and programs. These got made to help local food vendors and small-batch producers.
Currently, the company has 635 brick-and-mortar shops and distributes to over 60 nations worldwide.
Check more: Best Kitchen Sink Brands: List of Top 10
3. Ruffoni
Ruffoni is undoubtedly one of the best kitchen tool brands we'd like to introduce today. You get to find the high-end cookware from the brand as well. Their premium pots and pans got handcrafted with a firm commitment to the beauty, functionality, and joy of cooking.
In 1962, Fremide opened his initial workshop together with blacksmiths to create their first kitchen tools.
His son – Walter – now becomes the helm of the business. Along with Armida, they bring Ruffoni to homes across Italy. Later on, Chuck Williams encounters Walter and then loves this little Italian artisan.
After the collaboration with Williams Sonoma, the Historia stockpot was born and sold across America. It also turns into the icon of the Ruffoni brand.
4. Oannao
Another good brand of kitchen utensils not to miss on this list is Oannao. They sell heat-resistant spatulas and other stainless cooking sets.
Oannao is a company that specializes in selling tools and gadgets that make cooking easier. If you're a baker, then look no further than using the silicone spatula set of the brand.
The set comes up with different-sized spatulas. They're also heat resistant to over 446 degrees Fahrenheit. As the Oannao claims, the silicone material is perfect for dealing with sticky ingredients such as marshmallows, caramel, and meringue. Feel free to hang them on the hook when not in use.
5. Cuisinart
Cuisinart is among the best culinary professionals that home cooks cannot ignore. The company got founded in 1971 by Carl Sontheimer to carry the electric food processor to the American market.
Their commitment to making functional and innovative products has won the brand different awards through the years. These include the Good Design Awards, the Gold Summit International Award, and the Gold Hermes Award.
With a mission to help people enjoy the good life, Cuisinart got set up to produce products favored by chefs. Their items get ranked at the top of the list when it comes to quality, function, and affordability.
You'll love: Best Kitchen Cabinet Brands: List Of Top 10
6. All-Clad
Whenever you look for nonstick cookware, All-Clad would be the top candidate. The company runs in Canonsburg Pennsylvania since it has some benefits no place could.
Their founder, John Ulam wasn't a chef or a product engineer. He only specializes in metals and owned over 75 patents for metal crafting.
For this reason, All-Clad cookware is worth the hype. Both materials and processes they apply would create superior cooking durability and performance. All-Clad makes every product from stainless steel. They would bond exterior layers of steel together with one core layer of aluminum.
7. KitchenAid
There's no need to introduce much about KitchenAid because it's one of the most famous brands in the food industry. If you want to add some culinary shades to the kitchen, choose a stand mixer from this brand!
And you'll see how KitchenAid cookware is worth it! With this introduction of the product, the brand becomes more reliable. Meanwhile, its style gets reinforced.
Food feeds our bodies, but the whole making process feeds our souls. That's also why KitchenAid was born. Here, they create everything everyone needs, from cutlery to cooktops.
Thus, whether you choose to cook, brew, blend, or bake in the kitchen, do it with KitchenAid!
8. Rachael Ray
Whenever you need something out of the normal, special, and beautiful, do not miss this brand! Rachael Ray, the founder of the brand, is an American chef who usually promotes fast and easy-to-make meals through television.
Meyer Corporation is the company making their cookware. It's also one of the biggest cookware firms worldwide when owning Ruffoni, Circulon, and Anolon. Most of the cookware from the brand gets made with hard anodized steel.
You can find nylon utensils in various colors from Rachael Ray. Feel free to read more reviews that can speak for themselves. These come from foodies, cooks, and restaurant workers who would tell you that this brand is worth a purchase.
9. Home Hero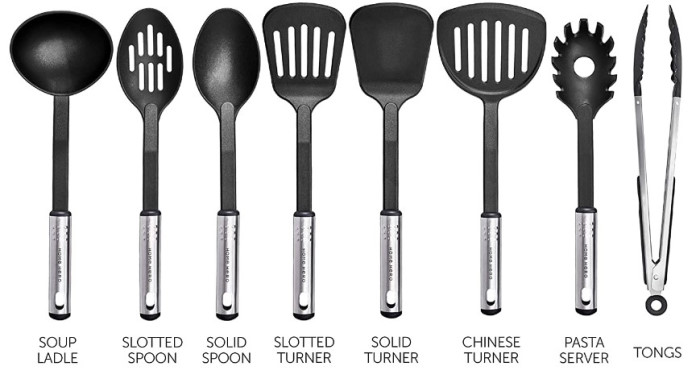 The company got founded to bring you and your family the top-of-the-line cookware that owns the functional design. Its purpose is to help people build comfy spaces that make them feel at home. The products they make can inspire kitchen creativity and healthy food options.
Home Hero offers several silicone utensils with beautiful color options you might love to try. Their stainless-steel knives will give you brilliant blades getting coated with non-stick paint and PP handles.
Home Hero kitchenware gets designed to make your cooking and life easier. You can easily find high-quality knives, pans, and utensils and make your kitchen look nicer.
10. Le Creuset
We have one of the best utensil brands made in France here: Le Creuset. It's a high-end cookware maker best known for enameled cast-iron kitchenware. Le Creuset is the leader in color development and chip-resistant enameled cast iron material. Their expertise spans almost a century, which gives them a great reputation in quality and innovation.
Since the launch of its Flame color in 1925, the brand has transformed the industry. They succeeded in bringing bold color to the kitchen. That legacy keeps going and now delivers a range of vivid and durable hues and finishes on materials.
Final Words
Cookware plays a crucial part in every kitchen. So we hope that this list of the best kitchen utensil companies will help you somehow. They all provide you with the heroes of the kitchen, ranging from spoons, spatulas, and other accessories. Go to pick your favorite and treat yourself to the best tools for any style of cooking.