Besides luxury goods, Italy is also a great place to shop for household appliances. There are many Italian brands on the market that produce very high-quality, affordable items that you can outfit your home with.
In this article, we have 8 Italian washing machine brands that you should consider the next time you give your place a top-to-bottom overhaul.
Top 8 Best Italian Washing Machine Brands To Get
1. Indesit (1975)
In 1975, Vittorio Merloni founded Merloni Elettrodomestici SpA in Fabriano, Italy. The business specialized in making large household appliances. It is a job that they are still doing today.
After a period of the financial crisis in the 80s, the company's scope and size grew significantly. From a small-time player in the domestic Italian household appliance market, Indesit's stores and products can now be found in several countries.
Indesit's portfolio consists of fairly affordable products with a good balance between performance and efficiency. Their products being so accessible and good for most people is why Indesit has become such a valuable brand.
2. Ariston (1930)
Ariston was founded in 1930 by Aristide Merloni – the father of Vittorio Merloni who later on created Indesit. The company first set its headquarters in Fabriano, Italy.
At first, Ariston was building weight scales, but eventually, the business shifted to making household appliances. Some of its first waves of products were cooktops and water heaters.
The company launched its first washing machine in 1960. Its design was good enough that Ariston was bestowed the prestigious Compasso d'Oro (Golden Compass) award. To this day, Ariston is still a hugely popular name in the Italian domestic market, holding over 40% of the market share.
Ariston washing machines are made in Italy and have a reputation for being very energy efficient. All of their products have a Class-A energy saving rating. The design and performance of their washing machines are also rated very well. Pricing is regarded as reasonable by most users.
You'll love: Best Italian Bread Brands: List Of Top 10
3. Ardo
Ardo is an off-shoot brand that also came from the Merloni's family that created Indesit and Ariston. This time, the brand was created by one of Aristide's sons and Vittorio's brother: Antonio Merloni.
Ardo is often cited to be the greatest washing machine manufacturer in Italy by the number of units sold. Their sales figures broke virtually all records in the industry.
The reason is simple: Ardo washing machines are more accessible for the common folks than most. Their offerings have very low price tags. However, that doesn't mean that their quality is lacking. The performance and longevity of Ardo washing machines have been rated to be very good.
Ardo even differentiated itself from competitors by loading its washing machines with a few unique features. For example, the Easy Logic control system. It automatically weighs the number of clothes in the machine and selects the best washing settings for you.
Unfortunately, the company doesn't have an online storefront. You can find them on third-party marketplaces.
4. Zanussi (1916)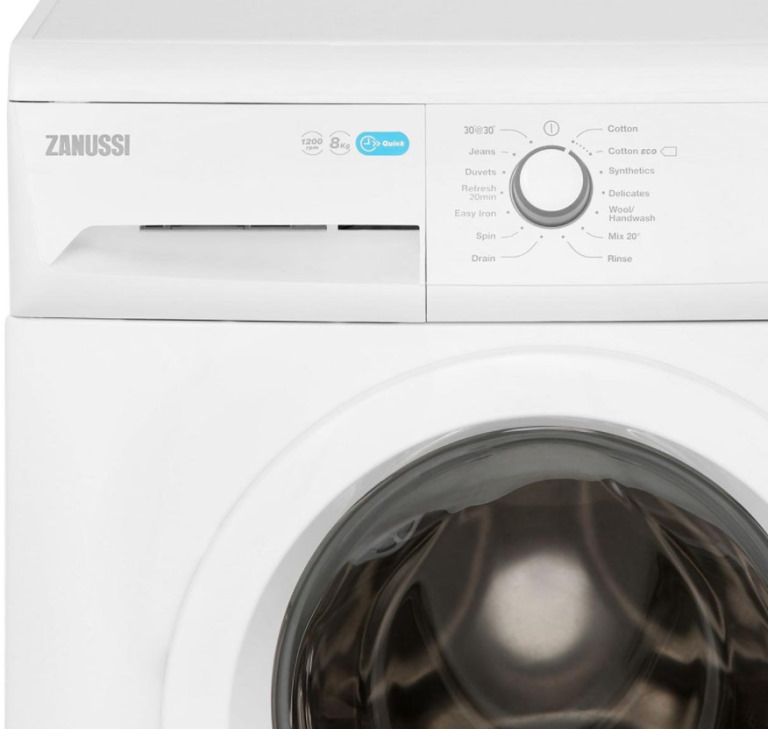 The Zanussi Company began as a small workshop of one Antonio Zanussi in Pordenone, Italy. This workshop's specialty was stoves and wood-burning ovens. The year was 1916.
Fast-forward to 1946, the reign of the company was handed over to Lino and Guido Zanussi after their father, Antonio, died. Under the brothers' leadership, the Zanussi brand grew into the large industry that's known today.
The company's product portfolio was expanded greatly to also include other appliances, including laundry machines.
The success of their washing machines was such that Zanussi won the Compasso d'Oro in 1967 for their P5 compact washing machine.
To this day, you can find many great washers under Zanussi's brand umbrella. Reviews of Zanussi washers are very good, praising their selectable linen load in particular. Most models will offer you between 3 to 9 kilograms (6.6-19.8 pounds) of load. Zanussi washers are also very power efficient and easy to use.
The durability of their products has been questioned a few times. Nevertheless, Zanussi is still a trusted brand in the Italian washers market.
5. Candy (1945)
The Candy Company was established in 1945 by the Fumagalli family.
Five years later in 1950, after moving to a factory in Monza, Italy, the Candy Company released the first-ever Italian semi-automatic washing machine. It was a resounding success. Leveraging the momentum, the Candy Company launched itself abroad and became the first Italian appliance maker to go international.
What makes the company special?
There are many reasons, but the biggest one yet is most definitely the price. Out of all the Italian household appliance makers, washers from Candy are the most budget-friendly. This makes them very popular among budget-conscious shoppers.
The design of Candy washing machines is compact and trendy. They look good enough to fit in most homes without looking ugly or obnoxious.
Performance is acceptable. They surely aren't the best on the market, but for the price, washing performance and efficiency are good.
6. Smeg (1948)
Smeg (Smalterie Metallurgiche Emiliane Guastalla) has been around for well over 70 years.
The company was founded in Guastalla, Italy in 1948 by Vittorio Bertazzoni. Like many companies on this list, it didn't start out as a household appliance maker right away. Instead, Smeg was an enameling and metalworking business at first.
Gradually, the company's core business shifted to producing household appliances that are aesthetically pleasing while performing well at the same time. They leverage a lot of new technology for the job, which was part of the reason why their business managed to flourish up to this day.
The first Smeg-branded washing machine came in the 60s, which was called the "Leda". Its success encouraged the brand to push on further. Today, its washers are bought and used by customers worldwide. They offer a wide selection of free-standing and built-in washers, all at a decent price.
Check more: Best Italian Dinnerware Brands: List of Top 10
7. Sangiorgio (1954)
SanGiorgio Appliances was founded in Genoa, Italy in 1954. Since then, it's become one of the most popular washing machine manufacturers in Italy.
Their designs are generally beautiful. Performance and efficiency wasn't bad, either. One of their latest washers has an energy class rating of A+++, which is the highest level.
8. Hotpoint-Ariston (2001)
This isn't exactly a company, but more of an alliance. Hotpoint – a British company – bought a portion of Indesit in 2001 and also got the rights for one of its subsidiaries, Ariston.
The expertise of Ariston at producing and designing appliances for the Italian market, coupled with Hotpoint's financial backing, resulted in some great washers.
You can find many models listed as Hotpoint-Ariston on the European market today. Reviews about their performance design are all well, making them good prospective buys if you're looking for a nice washer.
Final Words
A good washer is an essential appliance to have in the house. It's going to be easier to shop now that you have these 8 Italian washing machines brands on the list. Well-built and affordable for the most part, you can count on them to keep your clothes clean and tidy!