Just like their supercars, Italian motorcycle brands are revered by enthusiasts and amateurs alike. Every model that comes out of the country seems to have impeccable design and its performance is often unmatched.
However, there's one other thing that separates Italian brands from others: their history. The fantastic stories behind each brand are what has given them the prestige they enjoy today. This article today can tell you all about it!
Top 10 Best Italian Motorcycle Brands The World Has Ever Seen
1. Ducati (1926)
Ducati is the reigning king of "made in Italy" motorcycles. The company produces some of the finest motorcycles the country has ever marketed and the world has ever seen.
You may be surprised to learn that Ducati didn't start out building motorcycles right away. Instead, when Antonio Ducati and his sons set up Società Scientifica Radio Brevetti Ducati in 1926, they were building radio parts.
In 1950, Ducati built their first motorcycle, the Cucciolo (Italian for "Puppy"), in Bologna. From a modest start, Ducati pushed onward and has now become the premier Italian motorcycle company.
Famed not just for their distinctive designs, Ducati motorcycles are also known for their raw speed. Ducati has its own racing team and regularly puts its products to the test on the racing tracks. So far, the company's team has won hundreds of motorbike racing championships worldwide.
Since 2012, Ducati has been under the ownership of Lamborghini.
2. Benelli (1911)
Second to Ducati would be Benelli, which enjoys pretty much the same celebrity treatment as the former among enthusiasts. It is possibly the oldest Italian motorcycle marque still around today.
In 1911, Teresa Boni Benelli, a widow, invested all of her family's wealth into forming the company to give her six children stable employment. The Benelli Garage, located in Pesaro, Italy, first started out as a mechanic shop to fix up bicycles and motorcycles.
In 1921, the company presented its first motorcycle to the public: the "Velomotore". It used the company's in-house 98cc engine and was an instant hit.
Today, Benelli competes fiercely with Ducati for both market share as well as prestige on the racing tracks. This famous company offers high-performing motorbikes that look good (some own classic beauty) and drive as well as Ducati's best offerings.
Benelli also controls its own racing team, which has had a long series of successes over the years.
Currently, Benelli is owned by Qianjiang Motorcycle.
3. Moto Guzzi (1921)
Moto Guzzi, similar to Benelli, is one of the oldest Italian motorcycle brands still working today. The company's rides are known for their unique air-cooled, V-shaped, two-cylinder engines. Other than giving their bikes a special look, the shape improves cooling and overall performance.
The Moto Guzzi marque was founded in 1921 by a pair of military pilots and their mechanics: Giorgio Parodi, Giovani Ravelli, and Carlo Guzzi.
In the same year that the company was founded, Moto Guzzi made its first bike ever: the "Normale". Though it has a modest 8-horsepower engine, it was a good enough stepping stone for the company.
It's still around these days, creating stylish, large motorbikes for the masses. Since 2004, the brand has been under the control of Piaggio.
4. Piaggio (1884)
Founded in 1884, it is one of the oldest motorcycle brands in the world. But unlike similarly old brands that faded into obscurity over the years, Piaggio rose. It's now one of the largest producers of motorcycles and scooters out there.
Rinaldo Piaggio started Piaggio & C. in Sestri Ponente, Genova in 1884. The company's primary business then was building trains. After that, it expanded into building military crafts.
It wasn't until 1940 that Piaggio made an honest attempt at building a motorcycle. It culminated in the Piaggio Vespa, which ultimately revolutionized the Italian transportation market and pushed Piaggio to stardom.
These days, the company mostly focuses on building urban scooters. Sporty, high-performance motorbikes are instead handled by its sub-brands, one of which is Moto Guzzi.
5. Aprilia (1945)
Aprilia was founded in 1945, immediately after World War II by Cavaliere Alberto Beggio. It began as a bicycle producer in Noale, Italy.
In 1968, Ivano Beggio — Cavelieri's son — took over the company and produced three mopeds named Colibri, Daniela, and Packi. It took two more years until 1970 for Aprilia's first true motorcycle, the Scarabeo, to materialize.
With a strong heritage of motorsport, the company is up there with Ducati and Benelli as some of the best racing motorbike manufacturers. It also has its own racing team. Aprilia's team has consistently won many championships since its debut in 1976.
It was acquired by Piaggio in 2004 and serves as the company's leading sub-brand for racing bikes.
6. Beta (1904)
Beta's motorbikes are made for dusty, off-road racing tracks. Durable, capable, and highly reliable, Beta's enduro bikes are the go-to rides for observed trial racers.
In 1904, Società Giuseppe Bianchi was created as a bicycle manufacturing business in the town of Via Bellariva.
Later, the company moved its headquarter to Florence. During this time, it also changed its name to Beta, which is an initialism for "Bianchi, Enzo, Tosi, Arrigo". They were the heads of the company at this time.
In 1948, the company began to build motorcycles. In the 70s, the company transitioned into building off-road motorcycles and it has stayed this course ever since.
7. MV Agusta (1945)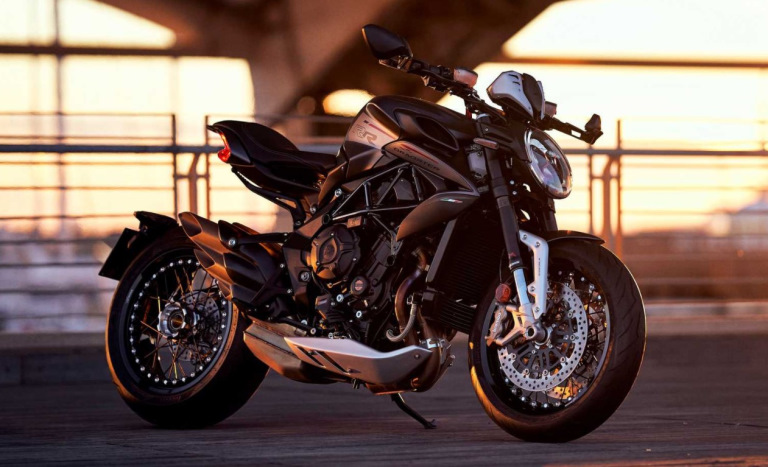 MV Agusta was an off-shoot of the Agusta aircraft company based in Milan, Italy.
In the 40s, Count Domenico Agusta came up with the idea of building motorcycles based on the aircraft engines that the Agusta company was already producing. But it wasn't until 1945 when Italy lost the war and aircraft production became forbidden that the venture started up for real.
The result was the creation of the MV Agusta brand (MV stands for "Meccaniche Verghera") and the production of the MV 98. This bike was put on the race track in 1947 and won the company its first race in Carate Brianza, near Milan.
MV Agusta persists to this day and is still building high-performing motorbikes for the race tracks. It also operates its own racing team with plenty of medals on its belt.
8. Bimota (1973)
Bimota was founded in 1973 in Rimini, Italy by a trio consisting of Valerio Bianchi, Giuseppe Morri, and Massimo Tamburini.
It specializes in producing advanced motorbikes using the latest technology and novel materials. Its latest product — the Tesi 3D — was one of the very few models in the world with hub-center steering.
In the 70s and 80s, Bimota had customized motorcycles for several renowned brands like Yamaha and Ducati. It also helped Lamborghini build some of its own motorbikes.
Bimota actually went bankrupt in the 2000s, but its doors opened back up again in 2004 when investors purchased the brand. Then, in 2019, Bimota was bought out by Kawasaki.
You will love: Best German Motorcycle Brands: List Of Top 8
9. Vyrus (2001)
Vyrus is basically the Pagani of the motorbike racing world.
The company produces a very small amount of bikes annually, but each one is incredibly well-made. According to the company, no bike produced by Vyrus is the same, and all use top-of-the-line parts. Tests of Vyrus' bikes have shown that they have the horsepower to compete with the strongest bikes from brands like Ducati, Benelli, or Aprilia.
It is a relatively new brand, having only been around since 2001. But in the short time that it's been active, Vyrus surely has made a deep impression in the biking community.
10. Borile (1988)
Borile is all about nostalgia. The company produces some very good-looking vintage bikes using modern technology and high-performance engines. These days, every Borile-branded bike uses 500cc GM engines, so they're incredibly capable at high speeds.
Founded in 1988 in Padova, Italy, it first began as an exclusive brand that produced handmade bikes. Later on, Borile began to mass-produce their bikes, and soon enough, they're seen everywhere.
See more: Best Italian Bike Brands: List of Top 8
Final Words
Now that you have known the name and history of these top 10 Italian motorcycle brands, you probably have grown a sense of respect for their legacies. Plus, if you're looking to buy a nice ride, you probably already have in mind the name you want, as well.
Which one is it? Tell us in the comment section below!