Italy is a land that is known for many things. Good coffee is definitely one of them.
If you love having a steaming cup of espresso in the morning, check out these best Italian espresso brands. Short of buying a plane ticket straight to Italy, this is the closest you're going to get to having an authentic-tasting cup of Italian coffee at home.
Top 8 Best Italian Espresso Brands to Brew at Home
1. Lavazza (1895)
Luigi Lavazza S.p.A was founded in 1895 by Luigi Lavazza. Its first shop opened in the city of Turin, northern Italy – a famed city often quoted to be the birthplace of espresso.
To this day, it's still owned in full by the Lavazzo family, who have operated the business for four generations.
Lavazza coffee is often a mix of Arabica (sourced from Brazil) and Robusta coffee (sourced from Africa). However, the coffee is processed in Turin, so it's definitely a 100% made in Italy product.
The mix gives a cup that's brewed from Lavazzo coffee a very deep, bold taste. It's incredibly fragrant and is often described as containing the quality of dried fruits and chocolate beans.
Ground coffee from Lavazza always maintains an impressive degree of consistency. It's neither too fine nor too coarse, which results in an excellent extract every time.
2. Caffè Vergnano (1882)
Caffè Vergnano is said to be the oldest Italian coffee roaster still on the market. The company was founded in 1882 in Chieri, a town near Turin, Italy by Domenico Vergnano. It has had more than 130 years of experience roasting and grounding high-grade coffee blends.
Their blend is made from a mixture of Central American Arabica and Asiatic Robusta. It results in a coffee ground that has a rich taste and sweet, fragrant smell. Full-bodied, but not bitter.
Although much of their manufacturing and processing techniques have been modernized (they have 14 automated production lines), the end quality remains the same. It's how the brand remains competitive and popular to this day.
3. Illy (1993)
In 1933, Francesco Illy founded Illycaffè and debuted the Illetta – one of the first modern commercial espresso machines in the world. Though the company is better known for its espresso makers, they produce their own coffee ground, too.
Illy makes only a single blend of coffee made from 100% Arabica beans. You can order different roasts depending on your taste.
The coffee itself is said to have decent taste and aroma. It's often described as a balanced ground with subtle taste and light acidity. The aroma also goes for the low-key approach rather than bold. There's just a slight hint of dried fruit and chocolate to keep you interested.
4. Segafredo (1973)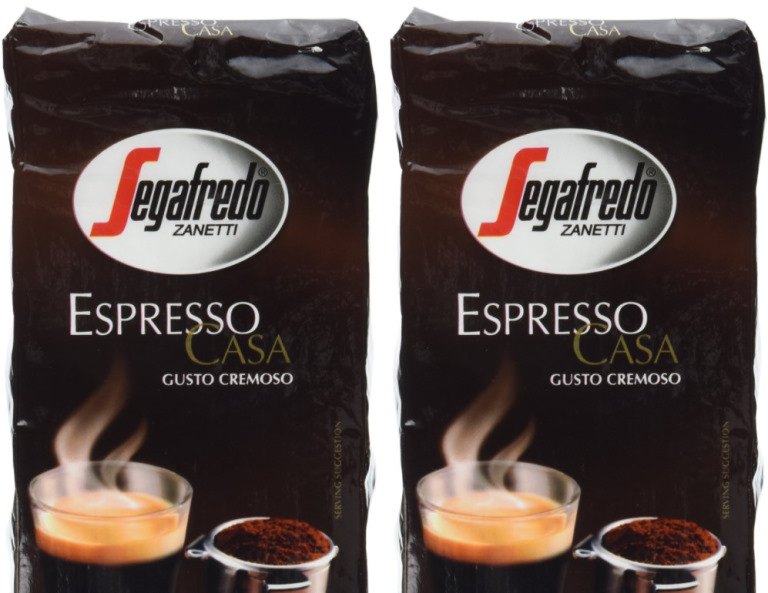 In the 1970s, Massimo Zanetti, an Italian coffee merchant, bought a coffee roasting business named Segafredo in Bologna, Italy. He continued to develop and expand the company, now named Segafredo Zanetti, throughout the country. Then, in the 80s, the Segafredo brand name began to appear in foreign markets, too.
Today, Segafredo is amongst the largest and most famous coffee brands in Italy and the world.
One of its most popular offerings, the Segafredo Zanetti Espresso Casa, is highly rated among coffee enthusiasts. Made from a blend of medium-roasted Arabica and Robusta beans, this blend has a smooth, aromatic, and flavorful profile.
Though the ground is medium-to-dark, it's still judged to be quite mild by most. Thus, it will fit the palette of the vast majority of drinkers.
5. Kimbo (1963)
Kimbo was founded in 1963 by three brothers – Francesco, Gerardo, and Elio Rubino. The Rubino brothers began their journey with coffee when they were young, spending time in their father's pastry shop roasting coffee. Coffee became a passion and, soon enough, a business idea.
Kimbo is now one of the most valuable Italian coffee companies in the world. The company spread throughout Italy and became popular for its special Neapolitan coffee blends.
Its fame eventually outgrew the country's border. Now you can find Kimbo coffee being served not just in Rome, but also foreign cities like Paris and London, too.
Kimbo's espresso is described by most as smooth and creamy. The taste is quite bold and can deliver a powerful "caffeine kick" on the first sip. The brand's a great choice if you prefer your drink strong.
6. Filicori Zecchini (1919)
Filicori Zecchini is the result of a partnership between Aldo Filicori and Luigi Zecchini. The pair founded the company in 1919, right after the end of World War I. Beginning in Bologna, the company made a name for itself with its incredibly flavorful and aromatic coffee blends.
In the 21st century, the name Filicori Zecchini is present in over 43 countries.
The company's signature FORTE blend is made from 70% Arabica and 30% Robusta beans. Raw beans are sourced from Brazil, Guatemala, and India.
When properly brewed, the blend can pack quite a punch. This type is bold and has a very unique earthy taste. Despite the boldness, the coffee has a relatively low acidity level. Hence, the overall texture is very smooth.
You'll love: Best German Coffee Brands – List Of Top 10
7. Bialetti (1919)
Bialetti was founded in 1919 by Alfonso Bialetti. The company started off in Crusinallo, Italy not as a coffee company, but as a metal workshop.
In 1933, Alfonso Bialetti wrote his name into the history of coffee as the inventor of the MOKA Express. It revolutionized the way people make coffee.
But Bialetti isn't just known for its coffee machines and accouterments. It also makes coffee, as well. Bialetti's blend is 100% Arabica. When you buy, you can decide between two options: Napoli or Milano.
Light Milano, owing to a light-roasted 100% Arabica blend, has a mild, fruity taste. Meanwhile, the dark-roasted Napoli variant – made from both Robusta and Arabica – can give you a full-bodied cup with a bitter tang of cocoa in the mix.
8. Pellini (1922)
The Pellini company was founded in Verona, Italy in 1922 as an import company. In 1947, the company completely switched its business model into making coffee.
It turned out to be a monumental decision because, as of now, it is one of the leading brands in the Italian coffee industry. Pellini Café remains a private business and has been under the control of the Pellini company for three generations.
Pellini Top is the company's best offering. It's made from 100% Arabica beans and has a mild, sweet taste. As a result, it's often used to make the coffee base for light drinks like cappuccino and latte.
Check more: Best Italian Coffee Brands: List of Top 8
Final Words
Whichever brand you end up choosing among these 8 Italian espresso coffee brands, they are guaranteed to give you an authentic Italian coffee taste. After all, the unique taste and aroma of true "Made in Italy" espresso blends can't really be replicated anywhere else.
Have you ever tried any of these brands before? How was your experience? Tell us in the comment below!