Ice cream is a must-have for every summer in the world. This freezing sweet food is famous for its ability to cool down the hot weather and to bring you to another level of happiness.
This summer, these 9 best ice cream brands below won't let you down because of their global reputation, high quality, and diverse flavors.
Top 9 Best Ice Cream Brands To Refresh Your Summer
1. Tillamook (1909)
The journey of Tillamook ice cream has a deep meaning from its special care for cows and farms, people and products, community and environment.
Starting as an Oregon-based dairy business in 1909, Tillamook is full of praise for its ice creams as well as other milk products, including cheese, butter, and sour cream. Some of its highly recommended products are Tillamook mudslide ice cream, peanut butter chocolate ice cream sandwich, or salted caramel frozen custard.
For better personalization, Tillamook also provides detailed recipes of how to make nice dishes from its original cream.
2. Breyers (1866)
In 1866, Mr. William A. Breyer started his own ice cream business in Pennsylvania. Much to our surprise, some of its original ingredients, in the beginning, are still being used today, which helps maintain the historical flavors.
Whenever tasting Breyers, you will see a true explosion of natural feelings in your mouth due to naturally sourced colors, flavors, and sweetness such as black raspberry chocolate from real fruit puree or mint chocolate chip from the mint extract.
Another wonderful key to the success of Breyers is its sugar-free product line, ranging from the classic vanilla to the crunchy butter pecan. Sugary or not, all flavors are promising to give you the best experiences!
3. Ben & Jerry's (1978)
From a humble beginning as a small ice cream shop in a gas station in 1978 to a legendary brand with a global presence, that is Ben & Jerry's. No matter where you are, Ben & Jerry's flavors are available in the freezer aisle of many supermarkets, grocery stores, and online.
A wide variety of ice cream shapes can be found at Ben & Jerry's such as cone, slice, mini cup, and chunk for all your special occasions. Moreover, a vegan diet is not your worry as Ben & Jerry's vegan ice cream is loaded with its classic and exclusive flavors so that you are not afraid of missing any exciting moments.
4. Häagen-Dazs (1961)
Founded in 1961 in Bronx, Häagen-Dazs founders started the story with only three flavors: vanilla, chocolate, and coffee with the ambition of creating the most luxurious ice cream for all.
Häagen-Dazs has the heart of global fans since it offers delicious sweet foods in dynamic forms, namely cookie, pretzel, brownie, pop ice, and ice cream bars that hardly can you find in other brands.
In 2019, Häagen-Dazs became an essential part of Fronerri – a leading global ice cream company with a strong presence in many countries all over the world.
5. Talenti (2003)
Impressed with everything about Argentina's gelato-making method, Talenti's founder – Josh Hochschuler decided to open his gelateria in Texas in 2003. Today, its high-ranking gelato and sorbet are proof of its prestige and quality.
What makes Talenti stand out is its crystal-clear jar that you can see through different aesthetic layers. These authentic colors will get your attention from first sight, not to mention Talenti's creamy and delicious flavors.
For any ice cream lover with special diets, Talenti won't disappoint you with its gluten-free, egg-free, fat-free, dairy-free, organic, and vegan options with exquisite taste.
6. Noona's ice cream (2016)
Have you ever heard about Asian American ice cream? Eccentric as it may sound, this cross-continental concoction is here at Noona's ice cream.
Winning an NYC ice cream contest in 2016 was the beginning of this kitchen. Coming to Noona, you can expect a trip around the world when scooping its classic Asian flavors from Taro, Sesame, etc. to the more whimsical ones like Hot Honey Chili Crisp or Turmeric Honeycomb.
All are crafted from standard amounts of sugar and calories instead of following any strict diets, hence extra enjoyment and tastiness.
It is also meaningful to know that every year, Noona donates its specialties to local organizations that support Communities of Color.
7. Baskin-Robbins (1945)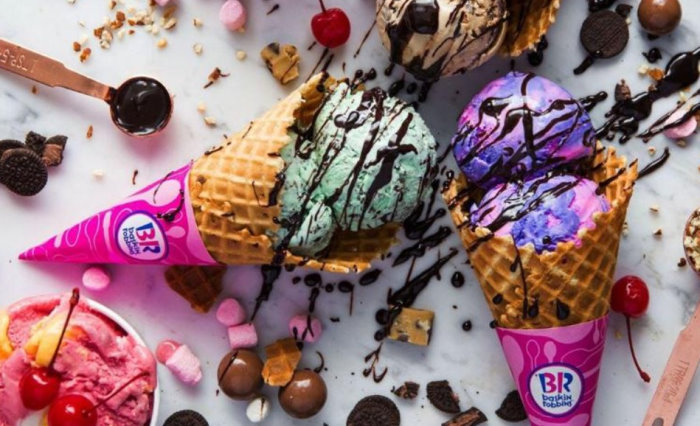 Baskin-Robbins's 77 years of history is a testament to a world-class ice cream giant.
Due to its grand scale, Baskin-Robbins' offerings can be easily found in grocery stores or supermarkets. Moreover, a high-grade experience will go beyond your expectation if you take your time to its specialty stores. 31 signature flavors plus seasonal or regional special ones are more than enough for everyday happiness.
Additionally, another impressive point of Baskin-Robbins is its ice cream birthday cakes created from the mixture of your favorite ice cream flavors and spongy cakes.
8. Grom (2002)
Gelato differentiates itself from ice cream thanks to its low content of fat, sugar, cream, and air. Nonetheless, to understand gelato more clearly, you should give Grom – a traditional Italian ice cream brand a try.
Established in 2002, Grom enhances the classic gelato by using only fresh high-quality milk, free-range eggs, white cane sugar, and fully ripe fruit from Italia's best farms.
In addition to typical flavors, people fall in love with Grom because of its Italy-inspired special lines, namely Panettone, Marron Glacés, or Torta Al Mango.
On top of that, Grom founders dedicate to clarifying the origin and recipe of every gelato flavor on its website. Therefore, you know the definition of a perfect Italian gelato and a passionate ice cream brand.
9. Iberrry (1999)
Ranked as the most popular home-grown ice cream in Thailand, Iberry embraces the essence of the modern Thai lifestyle. The intimacy in its name is inspired by the chic combination of "i' in ice cream and "berry" for small berries, which makes you have a craving for the brand for the first time.
Iberry takes pride in its homemade ice cream by using fresh ingredients and natural fragrances for consumer health. Some of its tempting options are Banana Chocolate, Guava & Salted Plum, Blueberry Mango Sorbet, etc. which truly represents a tropical country.
A visit to Iberry café would help enhance the whole experience because of its scrumptious cakes/drinks, elegant interior, and welcoming staff.
Final Words
The fact that ice cream is a go-to sweet food for the summer does not depreciate its value throughout the year as ice cream can complement every bonding moment with your beloved one.
Those 9 best ice cream brands around the world above represent not only exceptional quality but also works of art due to their lively colors just like different colors of your life.
What are you waiting for to pick one and be immersed in this cool sweetness?