A pair of boots specifically designed for hunting is important to every hunter. Whether you have to slog through rocky trails or adventure in harsh weather, footwear that is highly protective and comfortable should be considered.
In this post, we are going to discover the best hunting boots brands for your upcoming hunting trip. From insulated rubber hunting boots to breathable ones, you will surely find some brands that suit your needs.
Top 10 Best Hunting Boots Brands for Warmth and Physical Comfort
1. Irish Setter (1950)
Being synonymous with durability, comfort, and quality, Irish Setter has truly made its name among top hunting boots brands. It was established in 1950 – over 70 years ago when the Red Wing Shoes company introduced its new boot. The brand was named after the Oro-Russet leather that resembles an Irish Setter hunting dog's color.
Irish Setter offers a fascinating collection of hunting boots, from ultradry waterproof boots keeping your feet dry in wet conditions to pull-on rubber boots for cold weather. This brand's products are made with ScentBanTM technology, which plays an essential role in controlling odor and impeding hunters from snakes, and fangs during the trip.
Irish Setter's boots come in three sizes. Not only can we look for men's and unisex boots but we can also find some pairs specifically designed to fit women's foot shapes.
2. Rocky (1932)
Founded in 1932 in Nelsonville, Ohio, the American brand named Rocky always strives to provide quality hunting boots. Best known for their durability and versatility regardless of any terrain, Rocky's boots are lightweight though, and let wearers feel the ultimate comfort.
There is a wide range of options in terms of styles and patterns as well. If you would like to blend into the surroundings, go for Realtree, Mossy Oak, or Venator camouflage patterns. Lacing up these "made in USA" boots and you will surely get the most out of your expedition.
3. Meindl (1683)
The German brand Meindl (also known as Lukas Meindl GmbH & Co.KG) has a centuries-old tradition of boot craftsmanship. Since Lukas Meindl made the first boot back in 1683, generations of the Meindl family have been dedicated to building boots of the highest quality in the world.
You will come across some of the finest winter hunting boots here. While Meindl Kibo GTX Hunter delivers superb protection against extreme cold and snow, Comfort Fit Hunter 400 model is considered Meindl's most versatile insulated hunting boots that will get you through all season, even when encountering winter blizzards.
Check more: Best Gas Grill Brands: List Of Top 10
4. Crispi (1975)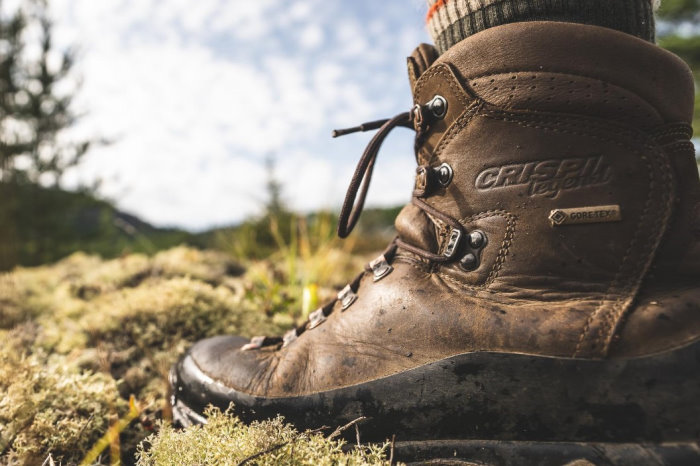 Founded by Alessandro Marcolin in 1975, the "made in Italy" brand Crispi earns its reputation as a world-class outdoor footwear company. Backed by innovative technology and impeccable craftsmanship, Crispy hunting boots are perfect for day-long hunting excursions on a mountain.
Among various models of Crispy hunting footwear, Colorado GTX is worthy of its own spot. These can be a stiffer and warmer-weather kind of boot; however, the Vibram soles can give incredible grip in any mountain terrain. They are made with water-repellent material, so your feet will always be kept dry and comfortable.
5. LaCrosse (1897)
One of the most reliable bootmakers you should never miss is LaCrosse – an American footwear company founded in 1897. Originally born in Wisconsin, it moved to Oregon and acquired its subsidiary Danner Boots there.
LaCrosse offers a wide selection of highly functional and durable hunting boots. Its famous Alpha Snake Boot line shows the preeminence when athletic shoes' agility goes with rubber boot utility.
When it comes to another line Alphaburly, its rubber-and-neoprene boots that are cozy, lightweight, and waterproof at the same time can make hunters fully revel in their outdoor trip.
6. Danner (1932)
The Danner story began when Shoe Mfg. Company – founded by Charles Danner – introduced its first work boots in 1932 in Chippewa Falls, Wisconsin, USA. Not until 1994 did it merge with LaCrosse footwear and become LaCrosse's subsidiary until now.
The Danner brand produces diverse products for cold weather hunting, but its Pronghorn boots really stand out. Pronghorn comes with Gore-Tex waterproof lining, Vibram Pronghorn outsole, and full-grain leather to ensure all-day comfort and stability. This rugged boot is such an excellent piece of hunting gear that you can conquer the miles in search of your prey.
7. Lowa (1923)
The reputable boot company Lowa was established in 1923 by a Bavarian cobbler named Lorenz Wagner. Lowa has gained one-century experience in the shoe-making business, therefore hunting boots from this brand usually deliver outstanding quality as well as innovative design.
Its Tibet GTX boots have been a fever among hardcore hunters. Gore-Tex liners help your feet breathe and inhibit odor effectively. They also support the ankle and work as hiking boots to take you anywhere you want.
If you want to own a pair of boots for both backpacking and hunting purposes, Lowa's Tibet GTX will be a wise choice.
8. Kenetrek (2002)
Motivated by its founder's desire to build boots that can keep up with his exhausting sheep hunting tests in high mountains, Kenetrek came on the market. Today, Kenetrek hunting boots win the heart of various customers due to their total comfort and durability.
Kenetrek's Mountain Extreme Hunting Boots accomplish what they're built for. Whether they are insulated or not, they still provide lots of stiffness and incredible traction when you experience rough and uneven terrains. The boot hardware can also withstand years of use and abuse.
That's the reason why Kenetrek exerts great influence on hunting communities despite being a newbie.
9. XTRATUF (1950s)
XTRATUF is a neoprene boot brand originally manufactured in a factory in Rock Island, Illinois in the 1950s. This brand name is common throughout Alaska and it is best known for boots designed to wear when fishing.
As this brand's boots are slip-resistant and 100% waterproof, you can find them useful when bringing some of them out for hunting as well. Their triple-dipped shells give fine corrosion resistance and flexibility. The XTRATUF Legacy 15'' series is definitely a foot saver if you go hunting in muddy and wet conditions.
10. Kamik (1898)
The Canada-based dedicated footwear company Kamik has had over 120 years of tradition. Starting with its first plant opened in Quebec in 1898, Kamik gradually expanded its distribution and entered the European market.
This family-owned company knows quality and loyalty, so it has made a longstanding commitment to producing boots of exceptional warmth and comfort.
Kamik's FORESTER boots can be top-notch winter hunting boots for your next excursion. They keep your feet warm and comfortable even in temperatures of sub-40°C. Plus an adjustable nylon collar prevents snow from making your socks wet. One interesting note is that these "made in Canada" boots are vegan-friendly.
Final Words
The standards of hunting boots vary from person to person, but the most common criteria are comfort, warmth, insulation, terrain, and waterproof function.
If you find choosing the right pair of hunting boots a challenging task, just go over the best brands for hunting boots above for reference. All of them have good reviews from users, but each stands out for its own strengths. After reviewing and comparing, you can surely decide on the most appropriate ones.