Imagine speeding down the road in a sharp-looking sports car and attracting the admiring glance of passers-by. Does it give you a feeling of thrill?
A sports car is not a mere vehicle. In some cases, it is considered the symbol of social status and a voguish lifestyle. These 8 best German sports car brands can meet that expectation with their superb performance, stylish design, and advanced technology.
Top 8 Best German Sports Car Brands To Express Your Style
1. Mercedes Benz (1926)
Mercedes earns its worldwide reputation as one of the leading luxury and oldest car companies. This Stuttgart-headquartered brand specializes in commercial and luxe vehicles with the integration of both tradition and innovation in every car model.
Mercedes sports cars have captured the hearts of gearheads around the globe with the latest technology, stunningly gorgeous look design, styling with a fabulously luxurious interior, and outstanding driving characteristics. These posh three-pointed star cars also offer outright performance, sharp handling, and driving enjoyment to sports car fans.
The upcoming innovative 2022 Mercedes-AMG One, which features all-wheel drive, 1021 horsepower, an eight-speed semi-automatic transmission, and two-person seating capacity, is expected to keep the name Mercedes at the centerpiece of social media.
2. Porsche (1931)
Porsche shapes its brand image in the public eye as a German high-performance automobile manufacturer.
Since founded by Ferdinand Porsche, Anton Piëch, and Adolf Rosenberger in 1931, this high-end brand has endeavored to launch multiple lines of sports cars with a range of supercar features, beautifully crafted interior, a perfect combination of performance and handling, and an abundance of technological expertise.
Porsche lodestar, the legendary 911, which made its debut in 1963, is a larger, more comfortable, and powerful substitute for the 356. Over eight generations, it has established its status in the sports car industry as one of the iconic cars of all time.
This all-rounder can serve as a reliable companion, a long-legged tourer, and an engaging sports car with effortless turbo engine performance regardless of road conditions.
3. Audi (1909)
Audi gains international acknowledgment as a goliath sporty vehicle brand. The very name is synonymous with superior quality and innovative design in the automotive industry.
Its inspiration for sports cars varies from low-slung track day monsters to rally homologation specials, which impress different groups of customers.
Audi sports cars have consolidated their positions as the top favorite sports machines for many years due to their top-notch driving performance, user-friendliness, sleek & sharp-looking, incredible road-gripping control, and elegant, sophisticated interior.
Remarkably, its latest all-electric sports car Audi e-Tron GT, considered a fighting model against Tesla, introduces rear axles which can produce 637 horsepower,  motors on the front, and the ability to accelerate from 0 to 60 m.p.h. in just three seconds. It has created chances for Audi to rise to the forefront of the automotive industry.
4. BMW (1916)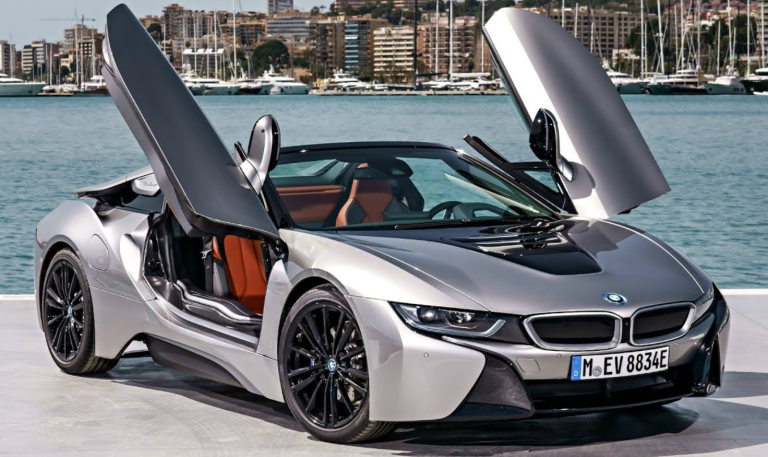 BMW, a famous German marque of luxury motorcycles and vehicles founded in 1916, stands for excellent car performance, exceptional quality, and stylish design.
It works nonstop on innovating its car portfolio with cutting-edge technology and classy designs, which keeps BMW at the forefront of sustainability and technology.
BMW sports cars serve their sports-car mission well with sporty-looking saloon, visceral engines, explosive acceleration, and razor-sharp handling. The driver-oriented cockpit is a striking feature of the BMW interior. The console, which gravitates towards the driver, gives a feeling of resemblance to a tailored suit.
The signature 3 Series BMW's compact sedan offers driving pleasure with minimized exterior dimensions. It has stood the decades-old testament since its first production in 1976 and remains BMW's best-selling vehicle of all time.
5. Volkswagen (1937)
Volkswagen is a leading motor vehicle manufacturer with its headquarter in Wolfsburg, Germany.
The very name Volkswagen has become a synonym with high performance, exclusivity, and innovation. The company prides itself on its dedication to quality and constant attempts to deliver enduring excellence to its loyal customers.
Volkswagen knows how to draw global attention by its exceptional models such as the iconic Beetle, W8, and Golf. Although Volkswagen is little known as a sports car maker, some sporty models receive positive responses from Volkswagen zealots like the limited VW Beetle Convertible Flint Edition and Volkswagen R32.
The 2004 Volkswagen Golf R32 is a sports model with a unique body kit, Recaro sport seats, 4 Motion all-wheel drive, 6-speed manual transmission, a VR6 engine, and 18-inch alloy wheels.
Another notable Volkswagen sports car is the Flint Edition VW Beetle Convertible which is distinctive for the color combination. While the convertible top and the interior are both Garnett Red, the exterior is Flint Gray metallic.
6. Opel (1935)
Opel GmbH is a long-established German car manufacturer founded by Adam Opel. Opel marked its initial success with its mid-sized Vectra model debuting in 1988.
This brand offers high-quality sports cars at affordable prices that feature fine road-holding ability, stunning speed, gutsy engines, and nimble handling.
The brand's famous Opel GT, which is known as German Beautiful Baby Corvette, is a rear-drive two-seat and front-engine sports car, specifically created for the younger driver, with a modern steel unibody design, a four-speed gearbox, and a Kadett engine.
Another noticeable sports car line is the Opel Speedster. This German-made car strikes worldwide customers with its inclusion of a four-cylinder engine mounted transversely just behind the passenger compartment and bonded aluminum monocoque chassis.
7. Isdera (1982)
ISDERA is a German niche sports car manufacturer founded in the early 1980s. Since its foundation, the company has only produced less than one hundred cars hand-built by a small team of craftsmen. Each highly customized vehicle takes at least 12 months to be ready to deliver to its owner.
ISDERA production has displayed a blend of craftsmanship and visionary aesthetics. The company targets to define futuristic mobility through innovative designs and cutting-edge production methods.
One of its most famous sports cars is the original Commendatore 112i, launched in the early 1990s. The Commendatore showcases a sleek, low, and bullet-shaped design, a velocity-sensitive electronic chassis, and two gull-wing doors. It can drive up to a top speed of 213 mph. Other noteworthy lines are the Spyder 036i, the Imperator 033i Spyder, and the Imperator 108i, to name a few.
8. Artega (2006)
Artega remains in the high esteem of the sports car fans for producing high-performance, stylish, and sustainable sports cars.
This 2006-born company marks its name in the automobile industry thanks to its hero Artega GT, which introduces a myriad of standard characteristics in high-volume automotive engineering: ABS, ESP, two front airbags, and side bags in the perfectly contoured seats.
This luxury marque also produces other impressive lines of sports cars such as Artega SE, Artega Scalo, and Artega Scalo Superelletra.
The electric sports car SE features the most excellent elements of the Artega GT, particularly with its inclusion of the enhanced integration of power management and an electric motor acceleration.
As the direct successor of the Artega GT, the stunner Scalo inspires car enthusiasts worldwide with pure driving enjoyment that introduces aerospace genes, an acceleration of  0 to 60 mph in 3.6 seconds, and a 64 kW DC quick charge.
Demonstrating all the best vehicle upgrades in the industry, the supercar Artega Scalo Superelletra strikes the world with a classy appearance, efficient car battery storage, high-end electric motors, and power management.
Final Words
The label "Made in Germany" never disappoints its believers through star quality products, exquisite designs, and innovative production techniques, and neither do these listed German sports car brands.
They inspire worldwide enthusiasts with a range of super sports cars coming in stylish and extraordinary models. These cars surely make your driving experience more enjoyable and your journey full of caste sense.