The best speakers should not only sound authentic and crystal clear but also be versatile, feature-packed, and well-built. If you are finding one, these best German speaker brands should be included in your list whether you are on a budget or not. These brands have proven to deserve their current reputations through exceptionally high-end products.
Check out these top 8 high-performance speaker brands made in Germany below which, without doubt, elevate your listening experience.
Top 8 Best German Speaker Brands To Elevate Your Listening Experience
1. Heco (1949)
Since founded in 1949, Heco has endeavored to develop high-quality speakers with stylish designs and powerful sound output. Its speakers are designed to add contemporary elegance and charm to your home and workspace.
The brand represents rich tradition and constant innovation through the inheritance of long-established passion for perfection and the application of hi-fi technology in its production.
Having been operating for over 60 years, this German speaker brand has received countless appraisals for its product range that runs from compact add-on loudspeakers AM 200 to the revolution of an audiophile legend standalone Calen Revolution speaker.
Its flagship Ladiva speaker displays a perfect blend of excellent sound quality, elaborate design, and state-of-the-art technology. It comes with four bass radiators, exquisite and timeless piano lacquer, the base plate with adjustable metal cone tip, and the lateral struts, all of which are made of the finest materials and perfected with cutting-edge technology.
2. Avantgarde Acoustic – Best German high-end audio brand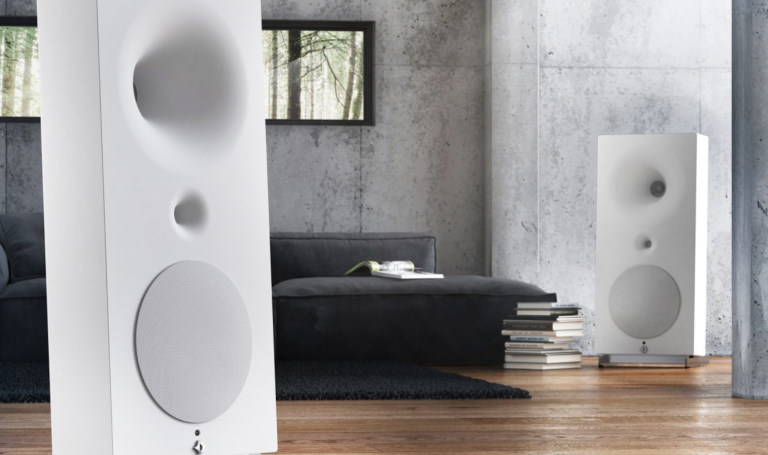 Avantgarde Acoustic is a German high-end audio manufacturer. It is the obsession with the perfect sound that shapes their vision and action. Their prime quality amplifiers and loudspeakers target those who appreciate a truly pure and unique sound experience in the world.
The company offers six lines of products, among which the Trio series stands out the most. This series includes Trio XD, Trio Classico XD and Trio Luxury. It is considered the most uncompromised, exhilarating, natural, and outstanding speaker system.
Trio Series is the ultimate dream audio system that has no contenders. The Trio demonstrates its uniqueness via condensed–to–the–max spherical horn architecture, artistic design, state-of-the-art technology, and beyond-imagination performance that can fetch listeners into a world full of authentic and vivid sound.
3. Burmester (1977) – Best German handmade speaker brand
Burmester has committed to innovating premium handmade audio systems and components for the automotive sector and home audio from the very beginning.
It has held on to its position as one of the most aesthetically pleasing speaker brands in the speaker industry through timeless design and high-quality audio. These standard elements always lie at the heart of the brand.
All components of their top-of-the-line speakers for home audio are assembled by hand in Berlin by highly-skilled technicians. Many of which have set a benchmark for what is considered iconic in the high-end audio world.
The company even produces speakers for leading European luxury car brands like Bugatti, Mercedes-Benz, and Porsche.
Its Signature Line introduces innovative leaps in design, sound quality, and technology in the speaker-manufacturing sector. It is considered a futuristic speaker line regarding style, technology.
This German-made speaker line also offers excellent performance via a congenial liaison of power and control, which embodies the pinnacle of what technical progression can advance to.
4. Sennheiser (1945)
Sennheiser is a reputed German family-owned brand that was formed in 1945 by Fritz Sennheiser. The very name has become synonymous with revolutionary audio products.
Sennheiser has elevated speakers to new heights of performance and design with impressive durability, highest-quality sound, and top-notch design.
They are crafted to perfection from premium-quality materials and highlight an exceptional combination of the latest audio technology and versatility, available in a portable and lightweight design.
The company produces world-class speakers for both personal and professional use. It brings an emotional and authentic experience to listeners at indoor and outdoor events with wireless speakers.
5. KS Digital – Famous German studio speaker brand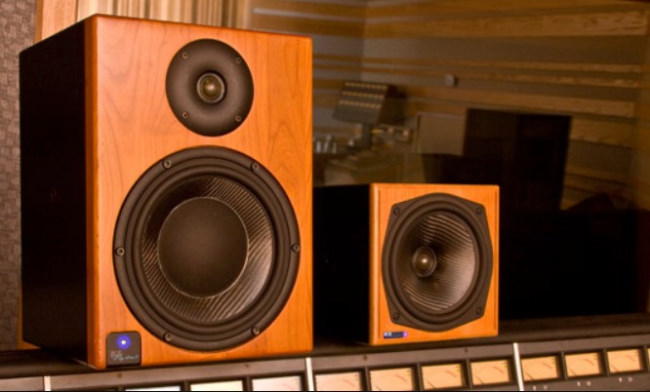 KS Digital has been manufacturing loudspeakers and studio monitors in Germany for over two decades. Its products are up to the highest standard of performance in sound and precision.
This company offers a wide collection of the best near-field, mid-field, in-wall professional studio monitors, studio monitor loudspeakers, speaker sound systems, line array systems, and live PA loudspeakers.
Its design goal is absolute transparency and purity in musical reproduction and to provide listeners with the most accurate, full-range, dynamic, and powerful presentation of music.
One notable product line is the KS Digital Coaxial which is the best set of nearfield professional studio speakers working like a genuine point sound source. It represents the zenith of coaxial implementation and development.
KS Digital has become a pioneer in an innovative speaker technology that is called the "regulated" low-frequency driver. This groundbreaking progression helps enhance the amplitude, phase, impulse fidelity, or frequency of the sound.
6. Dockin D Fine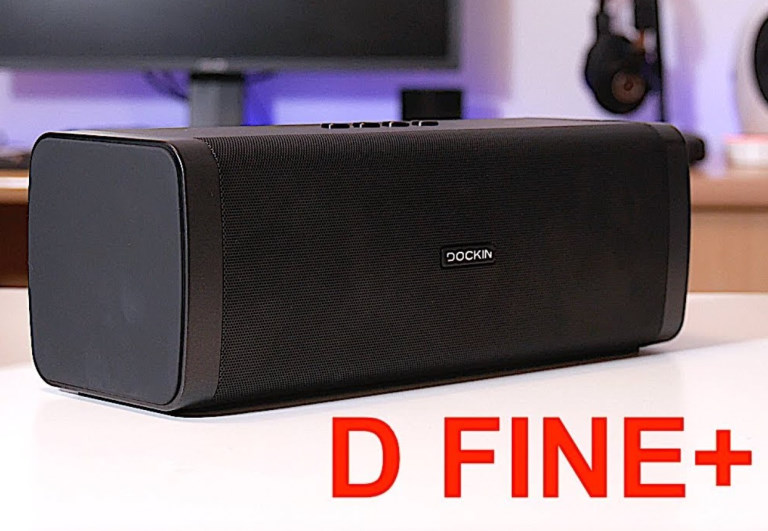 Dockin D Fine gains worldwide credit thanks to its highly-rated speakers of absolute fidelity to create its place amongst established brands. Authenticity and honesty are of the utmost importance that guide every move of the brand.
The staff of the company have strong backgrounds in audio and develop a great passion for aesthetics and sounds that makes Dockin D Fine products unique in the audio landscape.
Their Bluetooth speakers characterize first-class craftsmanship and a captivating top-quality sound at any volume. The well-known D FINE+ is the new variant of the D FINE that offers some changes from its predecessor.
The 2-way loudspeaker can deliver up to 40% more power but a battery life of little over 14 hours which is 2 hours less than its predecessor. The two D FINE+ speakers can be linked to form a stereo pair for better sound quality.
It also introduces Bluetooth 4.2 with aptX allowing music transmitted in near CD quality and IP55, which fends off even splash water.
7. Teufel (1979)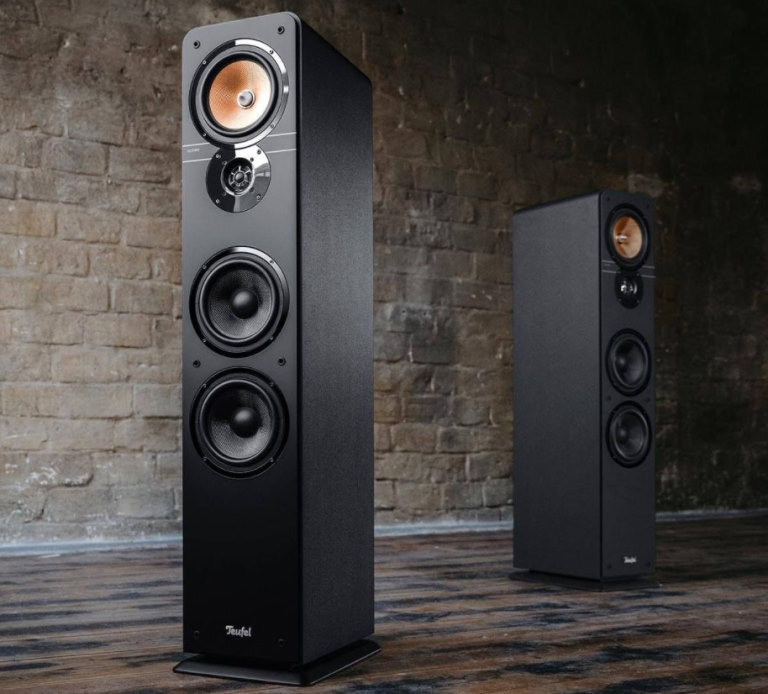 Founded in 1979, Teufel is a famous German producer of such high-end audio equipment for the home as speakers, soundbars, headphones, and home cinema gear. The company normally sells directly to end customers via its network of six stores and a website.
It is among the top-rated speaker brands in the world because it is determined to meet modern requirements with help of the latest technological advances.
It offers a wide selection of speakers comprising hi-fi speakers, Bluetooth speakers, stereo speakers, home cinema speakers, and smart speakers which can serve either outdoor activities or home entertainment.
These holistic speakers fulfill what Teufel promises: up-to-date design, delicate craftsmanship, superior sound quality, various sizes, compactness, and state-of-the-art technology.
8. Blaupunkt (1924)
The history of Blaupunkt can be traced back to 1924 when radio was still in its infancy. Every item was carefully examined by professional technicians and then labeled with a seal for quality guarantee – the blue dot. This blue dot, which means Blaupunkt in German, quickly became an embodiment of exceptional quality.
This company specializes in a wide array of electronics equipment. It is particularly well-known for its contribution to the car and home audio systems. This German speaker brand has been in business for around 100 years and has strengthened its position in the world audio equipment industry.
The brand offers everything such as Soundbars, Home Audio Speakers, Vintage speakers, Bluetooth speakers, Party Speakers, Tower Speakers, Car Audio & Accessories, Headphones, Earphones.
All the speakers from Blaupunkt are subtly designed and guarantee a long-standing top-notch "Made in Germany" quality. They all reproduce a pure and flawless sound and come with attractive color modes and various sizes.
Check more: Best German Cigarette Brands: List Of Top 7
Final Words
There is a vast choice of high-end speakers in the market with a myriad of feature offerings. However, with superb sound quality, unique characteristics, and cutting-edge technology, speakers made by the 8 above-mentioned German speaker brands are great for immersing yourself in a world of high fidelity sounds.
Besides, looks are just as important as the sounds of audiophile speakers. These German brands can meet that expectation and provide ideal and aesthetic speakers to levitate your lifestyles.