"Made in Germany" has long been considered a promise of high quality and outstanding innovations. There is no exception when it comes to beauty products. These best German skincare brands have proven the exactness of this assumption by their worldwide reputations and exceptional product lines.
Check out this ultimate list of the top 10 skincare brands from Germany to upgrade your skincare routine!
Top 9 Best German Skincare Brands To Upgrade Your Skincare Routine
1. Augustinus Bader (2018)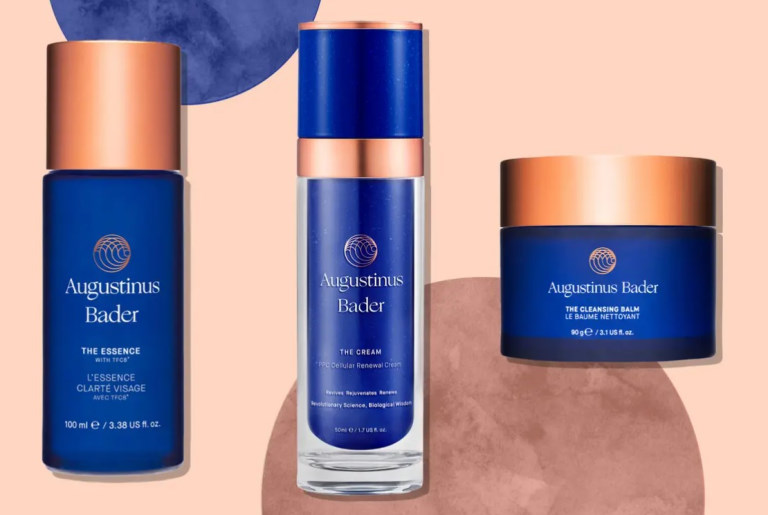 Augustinus Bader has been a pioneer brand in the clean-science skincare industry since founded in 2018. Its founder is Dr. Augustinus Bader, a forefront stem cell and biomedical expert. The groundbreaking medical treatment, which enables activation of the regeneration process without skin graft surgery, is the impetus behind the development of the company.
It delights the most demanding customers worldwide with its iconic products, The Cream & The Rich Cream, containing Trigger Factor Complex to spark off the skin repair process. These luxurious products moisturize and promote more glowing, smoother, and firmer skin.
Augustinus Bader products are free of synthetic nasties such as GMOs, fragrance, DEA, SLES, SLS, gluten, heavy metals, parabens, talc, and petrolatum/mineral /paraffin oil.
2. Weleda (1921)
Weleda has been manufacturing sustainable organic skincare products with active ingredients grown on its biodynamic farms since 1921. This brand achieves cult status with skincare fans worldwide for gentle, plant-based products that nurture and re-balance the skin.
Weleda manufactures classic Skin Food, beautifully scented skincare, and currently expands its product assortment with fragrances. These German-made products are 100% free from genetically modified ingredients, microplastics, and mineral oil-based ingredients.
The all-natural signature product line, Weleda Skin Food, is widely considered a year-round savior to your skin from head to toe.
3. Royal Fern (2015)
Royal Fern, a famous anti-aging skincare brand launched by Dermatologist Timm Golueke in 2015, impresses beauty connoisseurs worldwide with its unique, luxurious texture and, most importantly, an all-in-one product with optimal visible efficacy.
Besides Royal Fern, the core ingredients of the brand, the scientists also discovered other phytochemicals that collaboratively intensify the cellular-defense ability of the fern. As a result of the perfect harmonization of these substances, the Royal Fern Complex comes into being.
On the continuous quest for perfection, the company creates exceptional formulas supplemented with such active skincare components as vitamin A, vitamin C, vitamin E, hyaluronic acid, cocoa butter, and macadamia nut oil.
4. KLAPP Cosmetics (1980)
KLAPP Cosmetics, a traditional family-owned pharmacy brand, was founded by Gerhard Klapp in 1980. It is a leading brand name synonymous with superior quality and innovative cosmetic treatments.
Klapp holistic products are compatible with all skin types and all genders for face and body care. They contain environmentally friendly ingredients that are carefully selected from every corner of the world and subjected to strict laboratory quality control.
This German skincare brand also deploys innovative technologies to develop distinctive products that contain rare components and high concentration active substances, providing the ideal base for state-of-the-art natural cosmetics.
5. Dr. Hauschka
Established by Dr. Hauschka and Elisabeth Sigmund, Dr. Hauschka uses the best natural ingredients with great meticulousness to create a high-end line of holistic products.
The company draws its inspiration from the profound phrase "Study rhythm. Rhythm carries life" to generate signature treatments and famous skincare lines that feature a natural approach to skin nourishment and a healthy lifestyle.
This strong bond is always at the heart of Dr.Hauschka, which prompts it to grow its herbs and cultivate them at particular times to ensure maximum vitality and efficacy. For maximum performance, each ingredient is elaborately studied and processed to be compatible with certain skin conditions.
6. ANNEMARIE BÖRLIND (1959)
Annemarie Lindner and Hermann Börner formed the ANNEMARIE BÖRLIND natural Skincare brand on January 1, 1959.
From the very beginning, they primarily focused on producing all-natural organic cosmetics with highly effective ingredients under the strict clinical test of skin compatibility. The product line contains only natural ingredients without animal extracts, silicone, or oil derivatives.
Highly sought-after System Absolute displays a high-performance skincare line for demanding wrinkle-prone skin. It demonstrates visible effects in anti-aging and natural skin regeneration thanks to interior substances such as nanoparticles, liposomes, and the natural Botox effect.
After just a few applications, the skin feels notably firmer, and the lines gradually vanish, bringing back a youthful appearance.
7. BABOR (1956)
BABOR, which has been operating under the same family since 1956, is among the leading professional German cosmetics companies. Its product range includes precisely formulated face and body care lines available in various forms, highly effective for cleansing and moisturizing.
The signature product line is the ampoule. Each unique glass ampoule carries such a high-tech beauty secret available in various skin nourishing and purifying formulations that only 2 milliliters will have an instantly visible effect.
Another noticeable line is REVERSIVE, a range of serums and creams. It gains worldwide recognition for anti-aging efficacy that features key ingredient Re-Youth Complex to rejuvenate and diminish minor inconsistencies of the skin.
8. QMS Medicosmetics
QMS gains a worldwide reputation as a collagen pioneer in the skincare industry. From the very beginning, this German cosmetic brand has focused on perfecting its product formulations to tackle the roots of skincare issues rather than merely their symptoms. Its products stand for enjoyable, resource-saving, and highly effective skincare.
The company leverages the most effective anti-aging ingredients like hyaluronic acid and collagen to keep skin moisture and activate skin metabolism. Having undergone strict clinical tests, skin-identical, optimally dosed collagen, and hyaluronic acid together with other accompanying care substances are absorbed quickly into the skin, setting up a stable skin barrier and ensuring a smooth skin surface.
9. Dr. Barbara Sturm
Dr. Barbara Sturm is named after its founder, a renowned aesthetician for anti-aging skin treatments without the need for surgery and innovative anti-inflammatory philosophy.
Dr. Barbara Sturm primarily uses high-concentration active ingredients that conform strictly to German skincare ingredient regulations. These original, science-based products have become cult favorites of natural skincare enthusiasts across the world for their superb ability in anti-aging, intense hydration, and skin cell revitalization. The company also innovates a special line for baby skincare.
Notably, the best-selling Dr. Barbara Sturm Molecular Cosmetics line is ideal for a simplistic yet highly effective skincare routine that provides glow regeneration, hydration, and nutrition.
Final Words
The charming and glowing look of healthy and flawless skin always draws people's attention. To achieve it, you do not necessarily take a long list of skincare steps or apply an overwhelming number of products.
These above-mentioned best German skincare brands, which are for sure worth a top position in your cosmetics list, can optimize your routine and maintain your best skin condition.