As you think of mustard, you'll envision Germany because it has been highly favored here since the medieval ages. And that's the reason why we shall learn about the 8 best German mustard brands today.
In Germany, "Senf" is used to flavor bland food or mix it with other ingredients in cooking. Differing from other nations, German mustard tastes unique and increases the depth of dishes.
The following names have it all, from the mild to sharp varieties. So choose your favorite to enjoy the calm yet unforgettable taste for every dish.
8 Best German Mustard Brands Can Satisfy Any Appetite
1. Löwensenf (1903)
The company was established in 1903 as Frieda and Otto began building their business. Löwensenf is an expert in the use of natural ingredients and used to win the gold medal from the German Agricultural Society. And through over 100 years, it becomes the striking symbol of innovation, tradition, and quality in mustard production.
In 2010, the brand also won the award "Brand of the Century" with its iconic product, the Löwensenf Extra. This hot mustard appeared in 1920, and now become a specialty in the city of Dusseldorf later on. Apart from it, the company continues innovating its products and generating new packets of sauces for grilling or dipping.
2. Hengstenberg (1876)
Another popular name out of other German mustard brands is Hengstenberg. Known as one of the oldest labels in the country, Hengstenberg is also favored by its wide range of specialty mustard and other German stuff.
Since 1876, the company has been famous for offering the finest taste and highest quality. And, that's what its motto is about: the best from the good!
As the brand claims, only decent raw ingredients are their top picks to make the best products.  Aside from cucumbers and vinegar, mustard is the next added to its food line. Its mustard is a bit sweet yet owns a depth of taste and great texture. People love to use it on sausages or sandwiches to make them taste amazingly delicious.
3. Thomy (1956)
Thomy is a famous food brand in Switzerland and Germany with the first production starting in 1956. Hans Thomi is the founder and he decided to produce mustard to stand out from other competitors.
It makes different types of condiments, ranging from mustard, mayonnaise, tomato puree to dressings. The mustard used to be delivered in bulk under the Langenthaler Senf label.
Also, its first name is Thomi, but then got signed under the name "Thomy" in 1930. This name becomes more marketable in the world. In 1971, Thomy gots acquired by Nestlé. So, to make salads, sandwiches, and french fries taste better, you can use this German-Swiss mustard on them.
4. Schaller & Weber (1937)
Its story started early about 100 years ago in Stuttgart, Germany. Ferdinand Schaller, a butcher who had years of experience determined to run his shop in Yorkville, Manhattan. This store has become more famous for authentic meat and sausages made in Germany.
With the use of traditional techniques and cooking recipes, Schaller & Weber turns into the top choice of New Yorkers. The company primarily sells deli meats, sausages, and charcuterie. They display cold cuts of German-made mustard on the shelves along with beautiful pink hams and salami.
Come here if you desire some kinds of spicy and hot mustard for roasted veggies!
5. Händlmaier's (1914)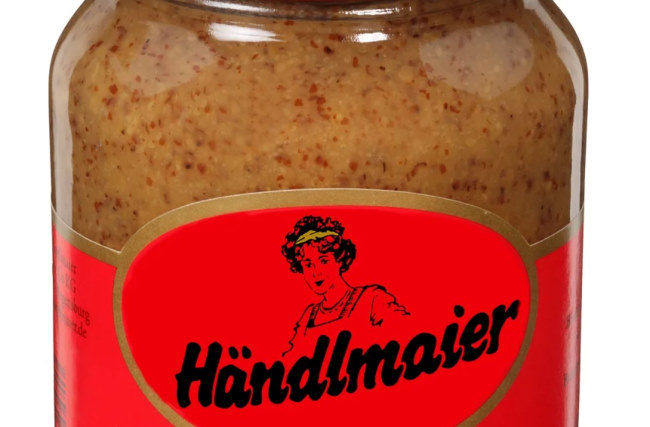 Among 8 German mustard brands, Händlmaier's is a favorite name that produces Bavarian mustard varieties. Husband Karl and his wife Johanna Händlmaier set up their butcher shop in Regensburg in 1910. Fours year later, Johanna thought of a unique recipe for sweet mustard, which goes well with weisswurst and Leberkäse.
Apart from the famous sweet mustard, the company impresses its customers with horseradish sauce, dressings for salads, and other condiments. Händlmaier only avails high-quality ingredients to ensure a tangy and deep taste. Feel free to pair any of them with any of your German favorites for a Bavarian feast.
6. Develey (1845)
Before diving into the world of mustard, Develey was initially a little mustard factory. John Conrad Develey established it in the city of Munich in 1845. He succeeded in experimenting with various flavors to create the best sweet mustard jar afterward.
And, from an unknown brand, Develey strived to become the leading food maker in Europe. Its primary industry is manufacturing salad dressings, mustards, pickles, and condiments.
For mustard, you'll have a wider choice to make among Wholegrain, Sweet Bavarian, Medium, Hot, and Dijon. Nowadays, the company has already exported to over 65 nations in the world.
7. Whole Foods
Whole Foods Market (WFM) now has over 500 retail locations in the US, UK, and Canada. You can find the market in Munich and Bayern, Germany. Each vendor will get approved after it satisfies corporate standards such as non-GMO and fair trade. Besides, WFM has a 10-year distribution arrangement with United National Foods, Inc.
It's a popular multinational supermarket chain that specializes in selling organic products. Most of them are free from artificial colors, hydrogenated fats, flavors, and preservatives. Organic German-style mustard is one of its striking products and is completely gluten-free.
8. Hofmann (1861)
Hofmann is renowned for making hot dogs, sausages, and spice blends to amaze fans across Germany. In 1861, Hofmann brought his famous German recipes along to New York and decided to build a meat market. Anyone who has a liking for classic franks or new combinations, Hofmann can satisfy all!
Don't forget its signature mustard! It's made of top-grade seed and spices for the mouthwatering taste! The condiment will complement your German sausages in a flash. Every product from Hofmann adds a unique thing to the meals. This drives Hofmann to keep making even more excellent products people love.
See more famous German hot dog brands here!
Final Words
The above brands of German mustard often make wonderful choices for you to enjoy the spread. Their mustards get made without fat or preservatives for your better health.
Save this list for your hot dogs, sandwiches, and hamburgers! If you've got another recommended list of brands that produce this yellow condiment, leave it in the comments.