German kitchen brands always lead the world with their precision engineering and innovative design. Since the oldest kitchen got founded in 1892, this industry has witnessed more brands offering a wide range of options. And many of them receive high praises in manufacturing kitchens with excellent functionality, design, and quality.
These days, companies design kitchens to create a cooking space that is fun, comfy, and easy to use. So, there are lots of delicate details you'll fall in love with the winning brands below. Look at them, you would know German kitchen produced at its best.
Top 8 Best German Kitchen Brands For A Perfect Start
1. SieMatic PURE (1929)
SieMatic offers a great abundance of kitchens for contemporary spaces. Here, you can choose colors and materials to match your home. Set up in 1929, the company has been producing kitchens with exceptional designs and graceful colors. PURE is the most recent name among exquisite kitchens from SieMatic.
The quality of a kitchen from PURE gets determined by the craftsmanship, industrial precision, and sustainability in use. Nowadays, the label knows how to engage with new likings and social change after spending three different family generations. With a focus on minimalism, SieMatic PURE impresses its customers with the elegance and glamour of each kitchen for the home.
2. Schüller (1966)
Tracing back to 1966, when Otto Schüller decided to establish the company that set off as a workshop. Today, they produce more than 130,000 kitchens annually in Herrieden. Each one gets customized according to their client's requests. Schüller is reputed for making every home a place of retreat with a mix-match of the dining and living spaces.
By choosing Schüller, not only do you get inspired but also be you in all designs for the kitchen. Just come to the store and ask for a new catalog for several ideas to design your dining room.
Most of their products are not cheap, but not costlier than some other luxury brands like Leicht or Hacker. However, any kitchen made in Germany primarily comes from trusted names, so you can be confident to get one.
3. Leicht (1928)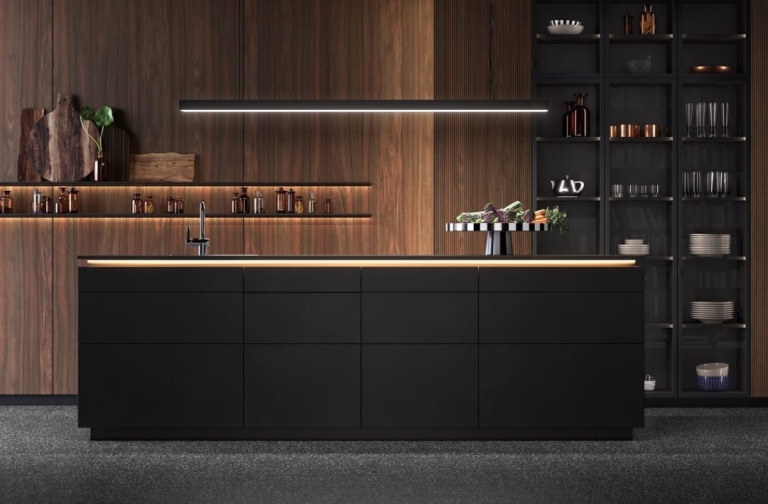 Do you want a bespoke kitchen design from a famous name? Leicht has all values you want among outstanding German kitchen brands on the market. With a long history spanning 80 years, Leicht never disappoints its lovers with designer kitchens for modern-day living!
The brand is an expert in making every cooking and dining space cozier than ever. And that's also the reason why their products are good value for money. Here, the best kitchen cabinet designers bring the most inspiring and cutting-edge models through the showroom. Through each kitchen, you'll feel their confidence and skills in the field of luxury kitchens and cabinetry.
You will love: Best German Cookware Brands: List of Top 10
4. Nobilia (1945)
For kitchens having contrasting colors and inviting forms, Nobilia is the exact label for you to get the right one. The company began manufacturing sewing cabinets, equipment, and furniture in 1945. In the present, Nobilia makes various kitchen styles, from handless models to modern ones.
Apart from designer kitchens, the brand also has perfectly fitted interiors for your cooking space with top-quality accessories. Coming with Nobilia, you get to experience exquisite appliances with elegant colors and finishes. These are get created by the ongoing attempts by everyone in the firm to satisfy the market's needs.
5. Bulthaup (1949)
For an ideal kitchen space, Bulthaup designs a place where people come, connect, and feel at home.
It's Martin Bulthaup who set up the company in Bodenkirchen, Germany in 1949. He then started doing business in Bulthaup kitchen furniture two years later. As its name gets mentioned, people think of the exceptional kitchen architecture for an easy and comfy lifestyle.
The company was set up with the target of creating the heart of each home with minimal yet functional styles. Not only that, but Bulthaup also combines conventional craftsmanship with modern techniques to produce practical kitchens.
6. Bauformat (1917)
German kitchen brands are often the top choice of consumers, interior designers, and home developers. Out of them, Bauformat stands out as the state-of-the-art kitchen development. It represents innovative design, contemporary styles, and optimal quality. Any product made from them is eco-friendly and tested for safety.
With 80 years of experience in this industry, the company is operating in its third generation. Since 1917 when it got established, this family business has grown on the international market. The most common products are the handleless kitchen unit and the industrial model. Timber and metal are their main materials here.
7. Poggenpohl (1892)
Another luxury kitchen brand made in Germany is Poggenpohl, a well-known inventor of architectural kitchens.
In 1892, the company got founded by Freidemir Poggenpohl, who succeeded in launching storage ideas for kitchen improvement. As one of the oldest kitchen brands in the market, it has offered options serving individual personalities and lifestyles.
Customers are the main focus of the label when it comes to customized ideas and living spaces. Each kitchen turns into a great work of art to complement the house. The company archives every goal through high attention to every detail. With the use of decent materials and trendy design, Poggenpohl knows how to make extraordinary kitchens.
8. Alno (1927)
Alno is another famous kitchen maker having its base in Germany. Since 1927, kitchens from this brand represent the top quality and unique development. The brand also won the Award of the year for kitchen innovation and gained a global reputation.
Nowadays, it becomes one of the globe's leading manufacturers thanks to its excellent technology and several years of experience. Coming with Alno, customers get to choose their favorite products based on the tailored concept. It enables wider choices and higher flexibility for your kitchen planning.
Final Words
If you desire to change your current kitchen layout, this list will help you find a suitable cabinet fast. German kitchen brands symbolize the best technology they offer. Their products get covered in the comfort and creativity of traditional craftsmanship. That's what a high-quality kitchen is about.