Ranking No.1 on the list of the world most respected "Made in" labels per Statista, Germany is home to some of the most prestigious makers of dolls. Here are the top 10 best German doll brands which are reputable for their high quality and subtly designed products.
Top 10 Best German Doll Brands
1. Kestner (1820s)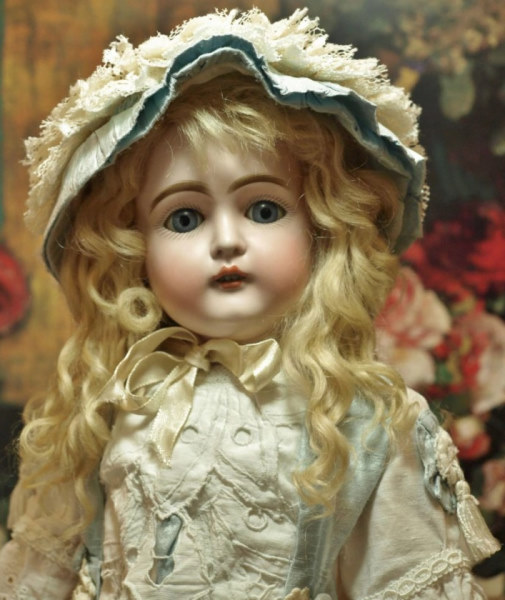 Founded in Thuringia in 1820, Kestner established itself as a high-end doll manufacturer. Its family business had been running for almost 100 years, starting with wood and papier-mache dolls. However, it was best known for the bisque due to its exceptional craftsmanship and modeling.
Among the few German baby doll brands producing complete dolls in the 1800s, Kestner always kept its dolls trendy, whether it was a baby doll, a lady doll, or a character doll. This made the Kestner family rise to the top of the German doll business.
In 1902, Lady Betty Modish, a bisque dolly-faced doll with a jointed body made of composition, a mixture of sawdust, glue, and other materials, in an attached satin ball gown complete with satin rosebuds and curled ribbons, exquisite jewelry, and a blonde human-hair wig, was a runaway success for this antique German doll brand in Boston high society.
2. Simon & Halbig (1839)
The Simon & Halbig company gains worldwide recognition for its excellently sculpted doll heads and high-quality bisque.
From the 1880s to the 1920s, it produced only heads and other parts for well-known German and French doll manufacturers such as Kammer & Reinhardt, Heinrich Handwerck, C.M. Bergmann, Roullet & Decamps and Jumeau.
The tinted and untinted bisque shoulder heads with molded hair and beautiful embellishments are the typical marks of this manufacturer's prolific output of good-quality dolls.
The popular kid-bodied shoulder heads, first produced in the 1880s, were modeled by French shoulder heads, with huge, usually paperweight eyes, pierced ears, and thick brows.
Those operated by a lever, moveable eyelids, the use of thread for eyelashes, and glazing the neck of a socket head doll to prevent friction between the neck and the body socket were among the innovative inventions devised by Simon & Halbig.
3. Kammer and Reinhardt (1886)
Due to important breakthroughs that transformed the German doll industry, Kammer and Reinhardt made it into the top German doll brands.
Founded by sculptor Ernst Kämmer and businessman Franz Reinhardt in Waltershausen in 1886, it primarily created dolly-faced dolls appearing with a bisque head and a ball-jointed body made of composition. Many of which come with an open mouth and teeth.
It diversified its doll categories after 1909, such as composition, bisque, or celluloid heads, and costume dolls dressed with wired bodies as various professions. Regarding black, red Indian, and oriental dolls, Kämmer & Reinhardt were among the first to use colored bisque.
In 1908, Professor Arthur Lewin-Funcke, a Berlin sculptor, was commissioned by K & R to produce a doll mold that reflected a new style, in which dolls resembled actual children.
K & R's Mold 100, the character baby head he created, was the first in a series of lifelike bisque dolls. Many consider the 100 Series to be the pinnacle of German doll production.
4. Armand Marseille (1865)
The Armand Marseille doll firm, based in Koppelsdorf, was one of the leading German doll makers in the 1860s.
While the firm created practically all of the bisque doll heads, it either sold doll heads or purchased the doll bodies from other companies. The company was renowned for its exquisite lady dolls and fine character dolls.
The most commonly made dolls are Mould 370 and Mould 390. The former was a Head & Shoulders one that was fitted to a stuffed body (leather stuff); the latter was a Head Mould in a composition jointed body.
Armand Marseille produced a wide range of baby dolls, kid dolls with dolly faces, and character dolls. Queen Louise, Floradora, the Dream Baby, Darling Dolly, and Just Me are some of the well-known brand names. They also created googly-eyed dolls with a joint that allowed them to open and close their eyes.
5. Ernst Heubach (1887)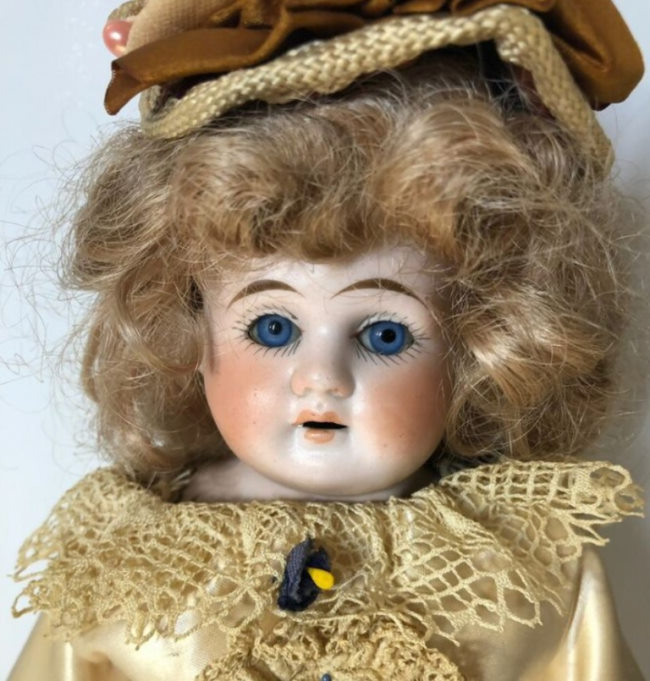 Located in Koppelsdorf, the Ernst Heubach firm specialized in making bisque doll heads attached to composition or kid bodies. Various marks, normally a horseshoe, are found stamped on its items.
It either manufactured dolly-faced doll heads for its use or supplied them to other German doll manufacturers, including Gebruder Ohlhaver, Cuno & Otto Dressel, Adolf Wislizenus, and Seyfarth & Reinhardt.
Most closed-mouth dolls were produced in a great variety of sizes, usually under 50 cm tall, smaller than ones made by other German dollmakers. Doll heads were sometimes made with molded hair and sometimes with wigs.
The most well-known "character baby" is style number 300, with a bent-limbed composition body, sleeping eyes, an open mouth, a wobbling tongue, and a wig.
6. Carl Trautmann Puppenfabrik (1884)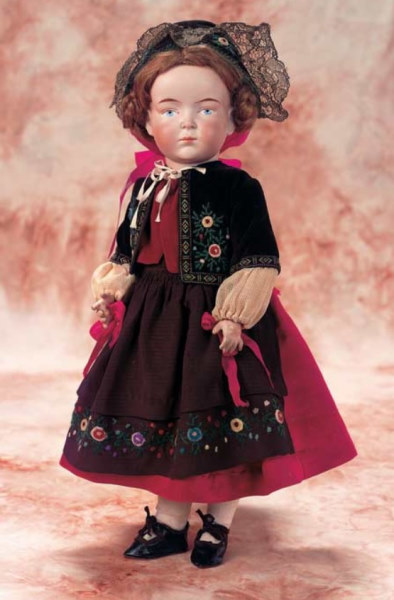 Carl Trautmann Puppenfabrik, founded in Finsterbergen in 1884, gained a worldwide reputation for producing the highest quality ball-jointed dolls among dolls made in Germany around 1900.
In 1904, it also sold mechanical dolls that moved by pulling strings and talking dolls with bellows of different sizes. Some of its bisque doll heads supplied by Simon and Halbig were marked with S & H.
The doll factory relocated to Catterfelder in 1906 and was renamed Catterfelder Pappenfabrik. It continued to produce small dolls, ball-jointed dolls in black and white, shoulder plate dolls attached to kid bodies, and a wide array of accessories.
By 1911, it also made celluloid dolls with sleeping eyes.
7. Hertwig (1864)
In 1864, Christoph Hertwig and  Benjamin Beyermann established the Hertwig & Co. factory in Katzhutte. This prolific company made kids' dolls, porcelain novelties, and decorative objects.
The company was most famous for its wonderful jointed Snow Babies which were all-bisque figurines with a white crushed porcelain suit and for Nanking Dolls, dolls with bisque heads, bodies stuffed with cotton cloth, and limbs.
Despite such signature shoulder heads as Pet Name and lowbrow chinas, the Hertwig company also made a wide selection of molded bonnet dolls and china shoulder head dolls, including the curl-on-the-top child, Highland Marys, and flat tops.
8. E. Escher Jr. & Bierschenk (1880)
Escher Jr. was formed in 1880 in Sonneberg, Germany. The company made dressed and undressed dolls as well as doll heads. In 1906, Fritz Bierschenk bought the E. Escher Jr. company and changed its name to E. Escher Jr. & Bierschenk.
Bierschenk's most noted work was antique Baby dolls with bisque heads. He also produced mask-like face dolls made from cloth. The only known Bierschenk model 616, a bisque art doll with a distinctive body, was created in 1910.
It was an alluring portrait-like lady character doll with unique peculiarities, best quality bisque, an exquisite body finish, an original wig, delicate painting, and costume.
9. Gotz (1950)
Gotz Puppenfabrik is a toy company founded by Marianne and Franz Götz in Rödental, Germany in 1950.
Gotz dolls are acknowledged internationally for their fine quality. The earliest creation was paper mache dolls. In Pleasant Rowlan's possession, the company was known for being the inspiration for the classic American Girl doll face mold.
Its handcrafted dolls are up to the highest quality standards, numbered and limited in production with their faces sculpted by world-famous doll artists.
The set goal of this modern German doll maker is to accompany children for a lifetime by the stylish designs and safe materials of its products together with interminable accessories.
10. Engel Dolls (1896-2006)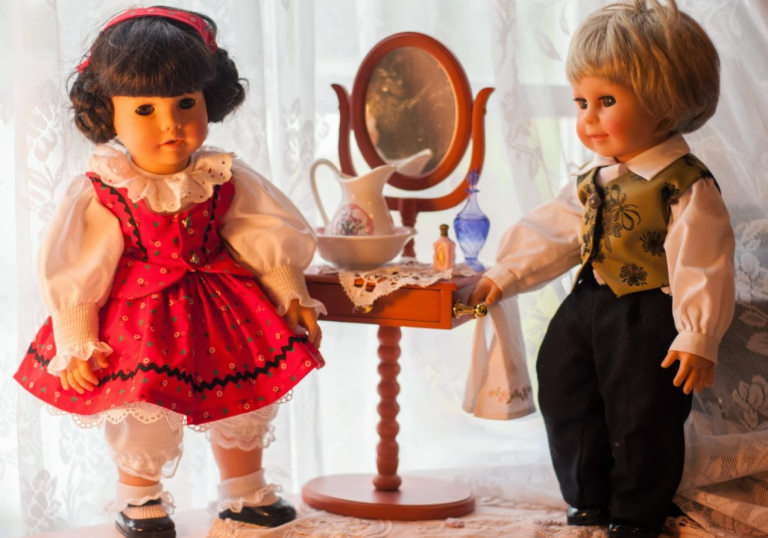 The history of Engel Puppen began when the first doll factory was founded in Mönchröden in 1896 by Edmund Knoch and his wife Emilie, initially making papier-mache dolls, little porcelain dolls, and wooden wool cloth body dolls.
When Helmuth Engel took over the Knoch company in 1976, the company's name was changed from "Edmund Knoch" to "Helmut Engel" and was renamed Engel-Puppen in 1989.
In 2001 and 2002, this German doll producer successfully acquired HB Wilhelm and Hans Volk respectively. In conjunction with the Wilhelm costumes collection in traditional German handicrafts and the Hans Völk nostalgic dolls, the Engel-Puppen doll collection grew to about 600 different styles from 2003 onwards.
Final Words
This is the list of 10 reputable German doll brands. Although many of them closed decades ago, they have maintained their long-standing reputation as a cherished collectible with highly sought-after antique dolls in the present market.