Having a good skateboard is, arguably, even more important for beginners than veteran skaters. The right skateboard setup will give you a better, safer time learning how to skate.
However, picking one can be difficult for beginners. In this article, you'll find the 10 best beginner skateboard brands on the market. You can count on them to give you a comfortable ride. They will last for some time before needing either a replacement or an upgrade.
Top 10 Best Beginner Skateboard Brands to Start Up the Hobby
1. Enjoi (2000)
Enjoi's founder – Marc Johnson – started the company in 2000. The company has been producing high-quality skateboards for the masses for well over two decades and introduced the hobby to thousands of people.
As a beginner, it's impossible to not take a few falls here and there. What you'll want is a board that can keep up without breaking or sustaining too much damage. Enjoi's boards are known for their reliability and durability, which is why they come highly recommended.
You can ride as hard as you want on even an entry-level Enjoi board and it will still hold up well several years down the line.
Their entry-level offers, like the Enjoi Whitey Panda Wide R7, are constructed from hard Canadian maple. The core is lightweight, which provides better balancing and handling. Pieces of the skateboard deck are held together by industrial-strength resin glue, while load-bearing parts like the truck are made from tough aluminum.
2. Powell Peralta (1978)
Powell Peralta is a familiar name on the skateboarding scene, having been around since 1978. The company was founded by George Powell and Stacy Peralta, gaining prominence through the 80s as an excellent skateboarding company. Its popularity is still strong to this day.
Professional skaters tend to recommend a Powell board to beginners because of the company's diverse portfolio. Take a look through their online page and you'll find boards made for people of all ages, skill levels, and styles. It won't take you long to be able to find a budget-friendly model to start on.
"Budget-friendly" here is a relative term, though. Compared to other companies on this list, Powell's boards are a bit more costly. However, we're sure that it'll be well worth the investment.
Powell's boards are very tough thanks to the company's decade-long experience at making boards. As an example, their most recent boards, such as the Flying Dragon-series models, can bear 200 pounds without losing their buttery-smooth ride and aggressive gliding performance.
3. Punisher (2008)
Punisher is also a pretty well-known brand. Founded in 2008, the company's headquarter is located in Pennsylvania.
Their skateboards, other than offering decent performance for the price, are also popular due to the unique arts printed on the decks. Punisher invites and commissions artists from all over the globe to create special works for their boards. That's how they stand out from the rest of the pack.
If you fancy yourself a good-looking ride, you can check out their catalog.
Punisher's boards are made from Canadian maple. The trucks and bearings are also built from lightweight, durable materials to improve longevity. High-quality grip tape on the deck improves balance, control, stability, and safety. Lastly, polyurethane wheels smooth out the ride.
It's a fairly basic recipe, yet highly effective: the boards are awesome for beginners.
4. Krown (1996)
Krown made its first appearance in the skateboarding scene in 1996. From the very beginning, the company's business goal has been dead-set on one simple philosophy: build high-quality boards at budget prices. Needless to say, that has made Krown a very popular destination for beginner skaters.
Similar to Powell, Krown's catalog is very diverse. You can find boards of all shapes and sizes, for all ages and skill levels. This makes it a lot easier for you to pick a board that suits your budget and style.
The most affordable option aimed at beginners – the Krown Rookie – can be had for around $40.
Like other skateboard makers, Krown utilizes maple wood in the construction of their boards. Bearings and trucks are cast from aluminum. Together, they make for tough skateboards that can stand the test of both time and the skate park!
5. Landwalker
Although Landwalker is a brand that doesn't have a definite history, their products have been received quite well by the community. They do not have an online store, so you'll have to visit third-party resellers and marketplaces to find their products.
The Landwalker Pro Cruiser, for example, is an affordable option that can be a good fit for beginners. You can have one of these for around $40 a pop.
The board is made from high-density Canadian maple. It lends the board excellent durability. Even if you take a tumble, you can expect your board to be in good shape. The dimensions (31 x 8 x 6 inches) are sized well enough for adults and teenagers to ride comfortably and safely.
6. Geelife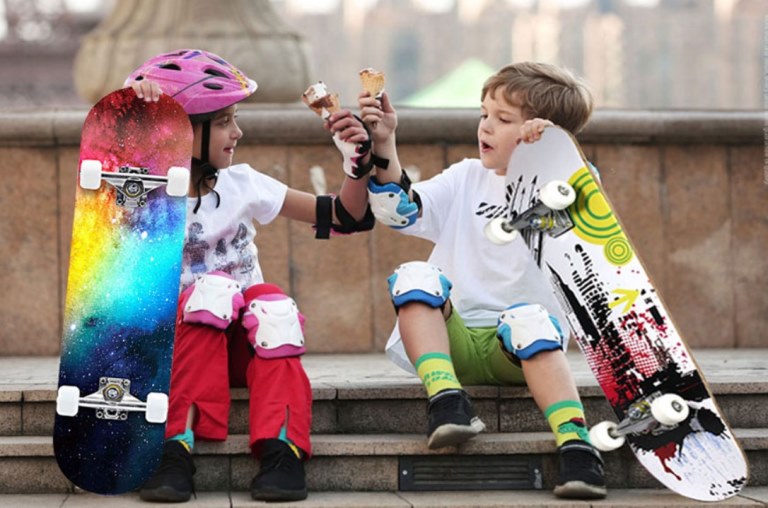 Similar to Landwalker, Geelife doesn't publish their company's history. They don't have an online store.
The most notable boards they got are for children. If you're looking for a board for your kids to learn how to ride on, the Geelife 22" Complete Mini Cruiser can be a good choice for girls. The small size of this mini board will fit the body frame of a child better than larger ones. They can get used to the feel of the board as they practice.
Though it may look like a toy skateboard, it's not. It has the same solid construction as adult-size boards. Geelife has done a great job at stabilizing the board, making it less likely for the young rider to fall. The complete skateboard is going to arrive at your door, no assembly is needed.
Geelife offers the board in many beautiful designs, making it even more appealing for kids.
7. Baker (2000)
Founded in 2000 by Andrew Reynolds, a pro-league skater, Baker has an outstanding reputation as a skateboard company. Just look at the list of riders who prefer riding Baker boards. There are names from Riley Hawk to Sammy Baca.
The company's boards are versatile. Beginners and veterans alike can ride on them. Browsing through their catalog, you'll be presented with numerous designs. You can also customize the decks, wheels, and board arts, as well.
Board artwork is a highlight of Baker. The brand owns some truly spectacular graphics that can make your board instantly stand out at the skatepark.
A word of warning, though: Baker boards aren't cheap. However, considering their history and quality, it may be well worth the cost if you have the budget for it.
8. Element (1992)
The year it all began for Element was 1992. Johnny Schillereff started up the company in Irvine, California. The hope of Element was to become a skateboard company that would be trusted and used by the next generation of skaters.
And they succeeded: Element skateboards are very popular among skaters of all ages and levels. You can rock a board as a beginner or an expert rider alike.
A highlight of Element skateboards is that they are a socially responsible brand. Their boards are produced in an eco-friendly manner.
9. Plan B (1991)
Plan B was founded in 1991 in San Clemente, California by Mike Ternasky. Similar to Baker, the company has an impressive list of pro skaters who use their boards. Some of the names are Danny Way, Chris Joslin, and Ryan Sheckler.
The thing that made Plan B's boards so great is concave. The company has done a great job at milling the board so that it is just right, making them perfect for flip tricks and more technical skating styles.
But you don't have to be an expert to ride a Plan B board. They have many options for beginners available.
10. Blind (1989)
In 1989, Mark Gonzales started up Blind in El Segundo, California. Very quickly, the company became an industry leader.
The selling point of Blind's boards is their durability. They create skateboards with some of the toughest decks on the market. This makes their boards particularly great for street skating.
Price-wise, they are fairly affordable, but you won't know if you were to judge the board on the basis of quality alone. Blind's skateboards perform, look, and feel a lot more expensive than they actually are.
If you're into street skating, definitely keep an eye out for Blind.
Final Words
Finding the right skateboard can be tough for beginners. Fortunately, these top ten best skateboard brands for beginners have got you covered! Browse through their catalogs and you will find something nice to get to practice in no time.
Got personal experiences with one of these brands? Tell us your stories in the comment section!