Getting a baby stroller isn't a piece of cake, especially when you must think about your child's needs and more. So before buying one, take a look at our list of the best baby stroller brands for your final decision. We asked experts for help with what features you should be considering.
In this roundup, each will be intended for one specific lifestyle or demand. Whether you want to use it all day or only to walk with your children, these brands can satisfy them.
Top 10 Best Baby Stroller Brands To Make Life Easier
1. Nuna
For Nuna, family means a lot to them. So they're ready to join the journey of parenthood by bringing their functional designs to life. Nuna is best known for its Dutch styles, craftsmanship, and practical solutions. If you're looking for a luxury baby stroller, Nunan is the perfect option to consider.
The brand is committed to guarding the place where babies are growing. Their high-quality materials, including fabric, plastic, metal, and foam all meet the US federal and European chemical safety standards.
Since 2007, Nuna has been focusing on making intelligent and practical baby gears. And these solutions span across Nuna strollers, car seats, and more in their home categories.
Check more: Top 10 Best Baby Carrier Brands
2. Chicco
In 1958, the brand got founded by Pietro Catelli, a developer of pharmaceutical devices. He later expanded his business into the field of baby products.
Since that time, Chicco has turned into a global label that shows up in 120 nations. They specialize in offering everything from nursing, toys, shoes, baby gear, and baby care items.
Chicco claims to act and respect people and environments with their baby innovations. Currently, Chicco has been the leading household name for parents across America Thanks to their lightweight infant car seat.
3. Mockingbird
For those who are seeking strollers with car seats, Mockingbird is a fantastic choice to make. Eric Osman, the founder of Mockingbird established the company in February 2019. Before starting it, Eric used to work as a growth marketer at Harry's brand and a consultant at Sense Corp.
With a focus on empowering parents, Mockingbird deserves to be one of the best baby stroller brands. The brand is dedicated to delivering functional products for parents and babies at affordable prices.
A stylish and well-structured ride can be a lot cheaper than other luxury stroller brands. Go to pick up your favorite one from their wide range of colors and storage.
4. Bugaboo
Among the best baby stroller brands, Bugaboo is a unique brand having trustworthy baby products and parenting solutions. It's a Dutch design firm that creates items for infants and toddlers. Coming with Bugaboo, your time spent with your child will be more memorable and fun no matter where you are.
After joining a stroller revolution over two decades ago, they have kept innovating and expanding their range of products. Each product gets made to become more comfortable and easier to use.
Bugaboo also pays attention to details with the help of excellent designers and engineers. It doesn't matter what size your family is, Bugaboo has something for everyone.
5. UPPAbaby
The G-Lite umbrella stroller of UPPAbaby is ideal for 6 months old babies. That's when your kid can sit upright. Yet, the stroller is not for your newborn because the seat doesn't recline.
So what do you know about UPPAbaby?
UPPAbaby is among the higher-priced brands you can choose in terms of its quality of materials and sophisticated designs. It's an innovative US company with the mission of creating baby products that satisfy the needs of your new life.
To do that, the brand has gained three decades of experience in this industry and as parents of young kids.
Their products meet all industry criteria required by JPMA and CPSC. Till now, they have never stopped raising the standards for style, safety, and performance of their products.
6. Thule
With over 75 years of experience, Thule has been making necessary products and solutions to simplify our whole lives. That's what makes Thule one of the best stroller brands here.
They're committed to creating modern and stylish items. These are not only easy to use but also high-quality and safe for the environment. Things got started in 1942 in Sweden. It was when Thule got founded by an outdoor lover, Erik Thulin.
Since then, they have been focusing on producing and developing good products with four values. These are quality, design, safety, and ease to use. Every product has to go through extreme testing.
7. Doona
Doona strollers tend to go over tougher terrains thanks to their heavy-duty wheels and comfy suspension. The best part of it is that parents can maneuver them with one hand. This thing makes it quite handy for jumping in and out of cabs.
Doona, it's a visionary firm claiming to improve and simplify all parents' lives and their kids with innovative products.
The company got introduced in America in 2015. At that time, Doona was a favorite for traveling families and those keeping their travel closer to home.
Doona's product might look like a car seat for infants. However, it can shoot out its wheels to turn into a stroller in a few seconds.
8. Cybex
If you need a baby stroller for running, visit Cybex for a lightweight one to run with your child. Their stroller is perfect for your running performance whether you're in the streets or in the leafy parks. Nowadays, Cybex is not only the leader in child safety but also a lifestyle and fashion label. They create products for parents and ensure that they have safety, style, and function.
Cybex got established in 2005 in Hong Kong and then owned by the Chinese Goodbaby since 2014. Currently, the company gained wide popularity in the U.S market with its car seat for families. These give them and other caregivers peace of mind when taking care of their children.
9. Babyzen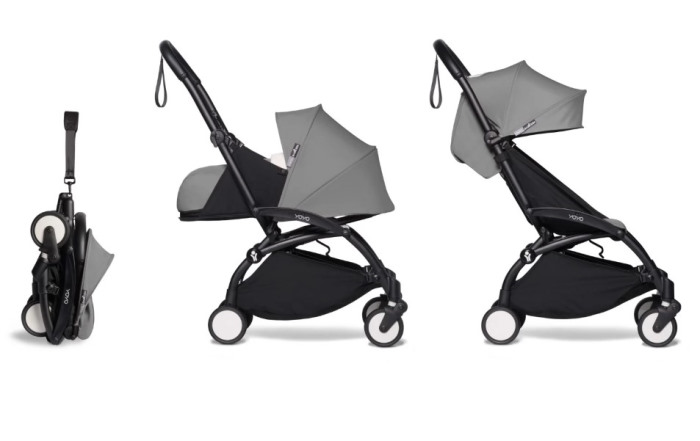 It's easy to own a stroller 3 in 1 nowadays, especially when it's from Babyzen. You can fold the stroller small and carry the buggy anywhere you like. The brand got acquired by Stokke, the Norwegian children's luxury product company.
For Babyzen, it's best known for the popular YOYO lightweight stroller. This Babyzen YOYO got launched in 2012 and soon turned into a hit. It got launched as the first buggy of the brand. You can fold it as small as possible by popping it in the overhead locker.
As the consumers said, the product feels compact and lightweight at the same time.
10. Baby Jogger
Most Baby Jogger products get made for active parents who have to do more with their kids. It started with the invention of a jogging stroller in 1984. Phil Baechler is the one creating that first stroller. He trusted that being a parent shouldn't mean sacrificing their passion for running.
Till now, Baby Jogger has kept revolutionizing their baby gear and enabled families to go everywhere. They design every product with families in mind. Here, you get to find strollers to fold with one hand or car seats to simplify your whole life.
Final Words
With all the best brands for baby strollers mentioned above, we hope that you can find your ideal stroller. Each label gets founded by its reliability, quality, and safety for children. Their products are quite excellent to use when showing functionality, durability, ease of use, and comfort for active parents.